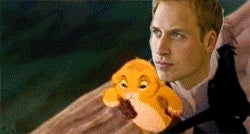 Hold on to your royal scepters and crowns folks! It's time for the Daily Dump.
TornadosFirstCat shares how the anti-choicers on Twitter have managed to make the #RoyalBaby Watch about ABORTION, because of course they did.
Pope Alexander is having problems with a rude co-worker.
Irvinel shared a hilarious tale from the fertility clinic.
ThereIsNoFluffy pondered some things she does not understand, including long conversations with friends and cheesy popcorn serving sizes.
Vivaciousvicious thanks GT for their help and support, but has decided to drop her statistics class.
ScienceGal finished the first draft of her manuscript. Congrats!
HappyBerry shared her feelings about noticing she has grey hairs and aging.
ItEatsYouStartingWithYourBottom shared some comic con videos (Catching Fire and Tom Hiddleston).
Heather Simon doesn't like the word "trigger". Instead she prefers the word "bruise".
Quashitlikeitshot got people to haul away her 1000+ asphalt pavers by offering them for free on craigslist.
PrincessFluffybutt is having some serious (and ongoing) workplace drama.
FluterDale tells us why she has and always will fly her freak flag proudly (hell yes!).
RattieMattie tells us why it's not fun to stay home from work when you are actually sick.
NomNom83 went away on a girls' weekend and lived to tell us the tale.
Shiny Red Robot explains to us in gifs how she takes out the trash.
FlossieLou has realized someone she used to consider a friend is actually a complete asshole.
MaryTylerGore shares some eye-opening (and sad) public reactions to Oklahoma's post-tornado coverage.
Kyosuke is done with male doctors and wonders if it's sexist and dumped her psychiatrist because they WOULDN'T SHUT UP.
TheUnconsoled shared the new requirements Penn State employees and their dependents will have to meet if they don't want to pay more for their health insurance.
Uppity is thinking of applying for a job in Vancouver and wants to know what GTers that have moved from the US to Canada think of it there.
Medusa Asudem is giving away a blouse to one lucky GTer (with mad poetry skills).
Raindogwaiting has been worrying about a lot of things lately.
FlarfenFoofenoogan, KITTEHS!
There-Was-A-Star-Danced has a seven-year-old little brother that leaves her adorable voicemails.
AshRonin had a bad day yesterday.
Rawrglicious shared a video of her hedgie with us.
Korra shared some nerdy (read: awesome) Internet finds with us.
Ginifur wants to know which feminist sub-reddits are the best.
Bigdamnheroes wants to know what happened to all their free time.
VioletGatesy is having some issues with her father and his comments about her weight.
BlueJeans shared a story of parents and improper Facebook etiquette.
That's it everyone! Hope you managed to survive your Monday!