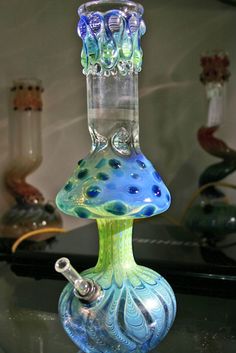 With medical marijuana legal in nearly half of the U.S. and recreationally legal in two states, I think it's time we discuss your smoking habits, my pothead friends. While getting stoned used to be associated with teenagers who love Bob Marley and adult burnouts in tie-dye, the face of the average pothead has shifted. Many pot smokers nowadays are your average, clean cut, responsible adults. We hold down jobs, raise happy kids, and pay our bills on time! So why are we still smoking out of phallic rainbow colored glass and storing our pot in old jam jars? Lets upgrade into the world of smoking like the classy adult you are. In this post, I'm going to focus on the hardware. I will do a follow up post on storage and other accessories in the near future.
First thing's first: Try not smoking out of a pipe at all and get a vaporizer. This is by far the healthier alternative to smoking, as combustion of weed will eventually lead to a host of negative effects on the respiratory system, and inhaling damaging carcinogens will irritate your windpipe as well as your lungs. Vaporizors will not burn buds, instead they heat up the cannabinoids on the buds to a boiling point where it is then turned into a vapor mist that you inhale. This is why vaporizing is the preferred choice by doctors in places where marijuana is legal, and ranks highest in satisfaction in terms of minimizing side effects. So lets take a look at some nice options in the vaporizer world.
First off, the Pax by Ploom ($249). This pocket sized piece is so aesthetically pleasing, you could leave it out on your coffee table and it would fit right in with the rest of your electronic gadgets. The Pax has a motion sensor with automatic shut off to save your battery and three temperature presets so you can adjust it to your needs.