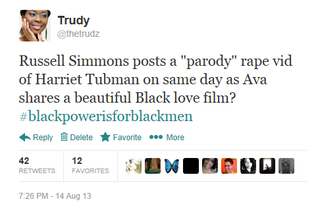 From Gradient Lair's How Anti-Blackness Shapes Hetrosexual Black Men's Dating Preferences
Misogynoir (from the word misogyny; [miso-: hater, gyn-: woman, noir: Black]; term coined at Crunk Feminist Collective) or specific anti-Black misogyny—where race and gender together are factors and often this misogyny creates a binary with White women (where White women represent "good" womanhood and Black women do not) or has levels that include other women of colour, but only insofar as Black women are the most degraded and placed at the bottom—is also a factor when many heterosexual Black men assert their dating "preferences." They rarely can verbalize what they desire without also making it known that they don't desire or that they even hate Black women.

Like I mentioned on Twitter yesterday, some sage wisdom from @bad_dominicana, Black men loving Black women isn't enough. They also have to actively unlearn the hatred of Black women. The hatred of Black women IS taught. Whether it's buying into Strong Black Woman narratives that dehumanize us, believing that we are "unrapeable" because our sexuality is deemed inherently "deviant," accepting the message that the further away from Black that a woman is, the more beautiful, kind and worthwhile she is, that Black women, not imperialist White supremacist capitalist patriarchy destroy Black families and an incredibly long, could fill a book list of anti-Black woman propagandist myths, misinterpretations and lies, Black men and the rest of the world are actively taught to hate Black women. And since so many Black men already don't love Black women and can't unlearn the hatred of Black women because they don't have the tools to even recognize they've absorbed White supremacist propaganda as absolute truth, they can't recognize how misogynoir shapes their dating preferences and how they proliferate misogynoir.
Thought I'd share, for reasons I just don't feel like articulating right now.