Dick Wolf discusses his new novels and Law and Order. His answers are interesting, especially when asked if he worries that SVU glorifies sexual violence. According to him:
It never entered my mind because of the outrage both Mariska and Chris carried with them, that these crimes were not praiseworthy, the people they were going after were truly scum.
Of course, he doesn't tell us who his favorite ADA is. Not that he has to—WE ALL KNOW IT'S JACK MCCOY!
His favorite detective "right now" is Mariska Hargitay. The "right now" seems like a cop out (ha!) though. Because seriously, Lennie Briscoe!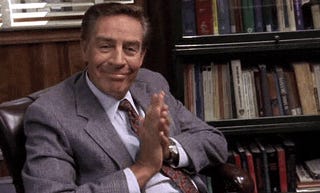 Fun Fact: Jerry Orbach was Lumiere in Beauty and the Beast.