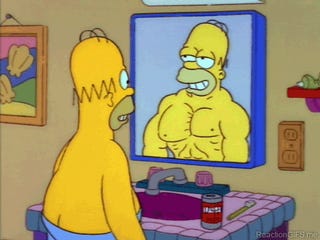 The key, I've found, is angles. When I'm having a really terrible morning, or when I've been poking around Facebook and found that someone has tagged me in a truly awful picture, when I'm looking my worst, and today I'm in a really depressive state, I need something to get me out of the house without feeling like I'm drawing the entire universe's attention, like those diagrams where spacetime is just a big piece of fabric and the black hole is just sucking in everything it encounters. So I find one of the few items of clothing that I usually feel good in (unless it's what I'm wearing in the unfortunate picture), head into the bathroom, tease the hair a little bit, and make faces at myself until I find an angle that is acceptable to show the world, or at least that will buoy my spirits until I'm in the car.
Not all fat people are depressed, but the two seem to often go hand in hand. The speculation on whether this is because being fat makes you depressed or vice versa is misguided, and not only because the answers to both are probably yes. The problem is that in most cases, it's not the actual "being fat" that causes depression. We are all socialized to think that thin = superior, and to be fat is to be inherently less than. Internalizing the disdain that society has for our bodies and, by extension, us as human beings is almost unavoidable.
My experiences aren't universal, of course, and I hope that they aren't taken that way. But the flip side is that my experiences are most certainly not unique. And this is not at all to imply that fat people aren't happy or that on the balance, that we aren't happier than we are sad. But for many fat people, the experience of being fat in private life definitely has its moments of shame and sadness, but the mundanity of the whole thing can be difficult to understand.
In my previous piece, I wrote about the burdensome self-awareness that comes with being fat in public. Many of the responses were suitably sympathetic, and while it's appreciated, it made me realize that the story was woefully incomplete. I don't mean to finish it here; I could write reams on the experience of being fat and how it shapes the way I move through everyday life. But I think my piece put forward the impression that this is something that is constantly at the forefront of my mind, when the truth is much more complicated and, in a way, more painful.