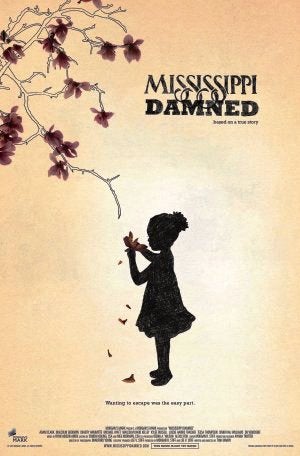 For the black men, women and children in "Mississippi Damned," Tina Mabry's autobiographical saga of intertwined destinies, that southern state epitomizes a domestic hell of borderline poverty and endemic abuse. Complex family trees sometimes make for tough narrative sledding, but the thicket of obligations, traumas and betrayals that entrap the "damned" here are well worth any momentary confusion. Mabry brilliantly captures a community as organic as it is dead-end, and the tortured legacy behind simplistic notions of ever escaping it. - Variety 

I just watched the film this morning and am still processing. The more melodramatic elements of this film don't entirely work for me, but the depiction of poverty and its inescapability felt very effective. Every time the kids gave up on a dream or a goal because they made the choice to give their parents money they'd been saving it wrecked me.
From a cinematic point of view I think this is an enormous achievement. The camerawork mimics character's emotional states, I loved that in the early sections there are a lot of shots from a child's eye view so you're seeing the family as Kari sees them, and there's a warmth to the cinematography that speaks to the love these people feel for each other despite the damage that has taken place and continues to take place between them.
What did everyone else think?
If you're interested in finding out more about director Tina Mabry, whois also a producer and director on Ava DuVernay's Queen Sugar, here are some interviews: