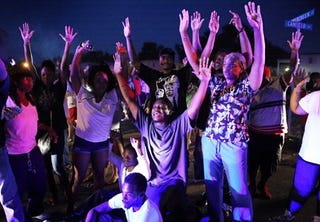 We need to be talking about what is happening in Ferguson, MO right now.
After looting was reported on Sunday at the close of the vigil for Michael Brown, the unarmed black teenager who was executed by a police officer, police and riot squads have stepped up their presence in the town. (It should also be noted that the police showed up in riot gear DURING the vigil, long before any looting or property damage occurred.) At this point, the police have closed off the entrances to the town, barred reporters from entering, and have turned their militarized presence on protesters. These are just a few of the reports, tweets and images that came out of Ferguson over night.
First - MSNBC has spoken to Dorian Johnson, a friend of Michael Brown and an eyewitness to the shooting. He reports that the police have thus far declined to take his statement (after being offered an interview via his legal representation).