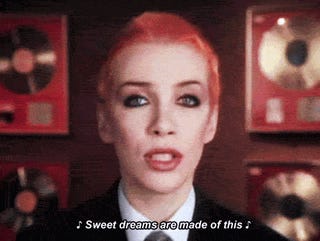 This year's Grammys marks the 30th anniversary (not to the date) of one of the most wonderfully shocking moments in pop music history: Annie Lennox's appearance in male drag at the 1984 Grammys. It marked one of the high points of androgyny in popular culture.
The 80s are remembered as a fairly conservative time. Reaganomics in the U.S. and Thatchrerism in the U.K. were in full swing, and the Cold War was at its most contentious. But underneath that all was an undercurrent of oddness, and part of that was androgyny.
One of the biggest pop stars at the time was Boy George, a gay man who, while not quite a drag performer, nonetheless presented as feminine. In the U.S. Prince (who despite the song "Controversy" was resolutely straight) was startling audiences by playing aggressively sexual music often clad only in a jacket and bikini underwear.
(Ironically, the standard bearer for androgyny, David Bowie, was turning his back on androgyny. Bowie had recently adopted a less flamboyant image, dressing in preppy shirts and slacks and stating in a Rolling Stone article coyly titled "David Bowie Straight" that he was never really bisexual.)
The main catalyst for the new wave of androgyny was simple: MTV. Faced with having to program 24 hours (and an unfortunate reluctance to play videos by "urban" -read "black"- artists) the new station looked to the UK , where music videos were already part of the TV landscape.
Eurythmics were an unlikely group to become stars in the video age. Both Lennox and Dave Stewart were nearing their 30s and had toiled in a folk/new wave band The Tourists to little success. They had released one album that went nowhere, but with their next album Sweet Dreams (Are Made Of This) they found a striking new sound and look. The icy synthpop of the title track was perfectly matched with the surreal imagery of the music video. More importantly, Lennox looked amazing and strange.
Female androgyny was nothing new in pop music, but it was mostly in the form of the tough "rock chick" who was "one of the boys" (Suzi Quatro, Joan Jett, Chrissie Hynde). This was different. Lennox was dressed in a man's suit but with bright orange hair and lipstick. In contrast with the cold synthesizers, her alto voice was soft and sensual. This was androgyny incarnate, and it blew young minds. Then came the Grammys.
In late February 1984, Eurythmics appeared on the Grammy Awards. At the time, I was a little disappointed that they were performing "Sweet Dreams" instead of their new single "Here Comes The Rain Again," but then I took a close look at the band.
Stewart was dressed in his usual psychedelic fop style, but Lennox was wearing a black suit, skinny tie, and an Elvis wig. The sideburns confused my 11-year-old mind. A moustache or beard would obviously be fake, but some women had locks of hair that resembled sideburns. What was going on here? I didn't know it at the time, but I had just encountered my first drag king.
The tide of 1980s androgyny ebbed after 1984. Lennox would continue to play with gender (indeed, she looked slightly odd in long hair in the videos for "There Must Be an Angel (Playing with My Heart)" and "I Need A Man") but never to the extent of the Grammy performance. But it didn't matter; the fuse was lit, and I for one would never forget it.