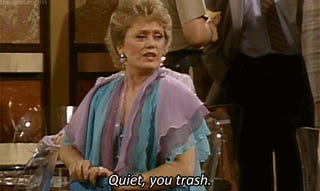 TW: Racism, homophobia, threats, sexual assault
Hi everyone! First, here are a few good things that are going on with me:
1. Depression Stories keep pouring in.
2. People are reading my things and reading my back work, which I like because a) writing is the first calling in my life that I feel passionate about, and b) I'm a horribly self-involved narcissist.
Then there's this:
"You are a disgrace to the white race. I hope a pack of blacks robs you and stomps you to death while they rape your girlfriend or boyfriend. Not sure with you trendy-at-all-cost types. This is a common occurrence in the states today. Blacks targeting whites to rob/rape.

Fucking disgraceful loser, go move to Africa."
This is a guy who I'm pretty sure did the following things:
1) Found Depression Stories, likely while looking for things on the MP to troll;
2) Found Why Would I Be Proud to Be White? (Proud To Be White was the subject line);