I am really hesitant about red lipstick.
(Update: Thank you all so much. I have been reading everybody's comments, and starring to say thank you. You've all been very kind. I now love red lips on me, and have a few more ideas of how to do red, thank to you all. This was awesome!)
I was once told (10 years ago) that I looked like I had "blowjob lips" when I wore a shade of red that I thought looked pretty. To be clear, this was not said in a complimentary tone like, "Damn girl, that red lipstick is giving you some banging blowjob lips." <—- Also probably not okay.
It was more like, "Whoa! What happened to your face? You look like you have blowjob lips!"... followed by a cackle. (You would think that blowjob lips would have no lipstick on them, and seem maybe a little chaffed? If your lips are blood red when giving head, you are doing it wrong, and might need to accompany the recipient to the ER.)
Me and the woman who made this comment worked in a cosmetics department together. I never had any idea what I was doing at that job; I worked for a skin care line that just didn't give a shit. Not sure why they hired me... I don't think this woman was trying to be a jerk, I don't even know her anymore, and wish her well. But I gotta say, having somebody who for sure knows more about make-up than I did/do critique me in such a rude way has made me a bit anxious about attempting red lips.
What I'm asking GT for today is some honesty with tact? Did I buy the right shade of red for me? I can take it! Or I'll just avoid an entire shade for another ten years.(kidding)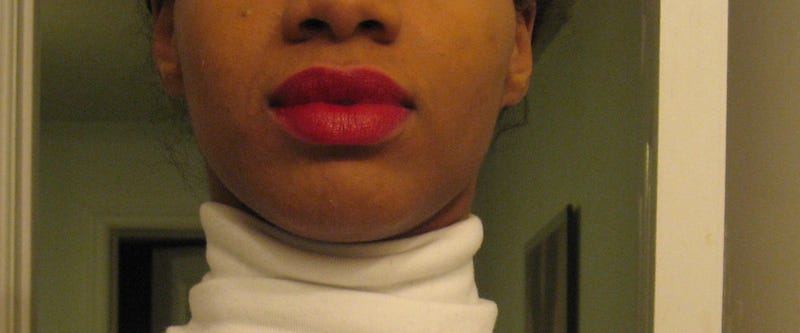 (Brand:Bite Beauty, Colour: Tannin)
ETA: GT, you're awesome... xxxxxx(those are all kisses). Thank you for boosting my red lipped confidence.