After being dropped by her literary agent, Sharlene Martin, Zimmerman trial Juror B37, (who has been no stranger to the media this week) has 'decided' she doesn't want to write a book anymore.
Umm. OK
Here's a breakdown of Monday night/Tuesday morning's announcement, so you can decide for yourself what really motivated this sudden change of heart:
BREAKING: Juror B37 in the Zimmerman trial now says she will NOT be writing a book; says sequestration shielded her 'from the deep pain that exists among the general public over every aspect of this case.'
Via Twitter, from Sharlene Martin, Juror B37's literary agent:
A statement from #JurorB37. pic.twitter.com/3MRrqB50vb

— sharlene martin (@sharlenemartin) July 16, 2013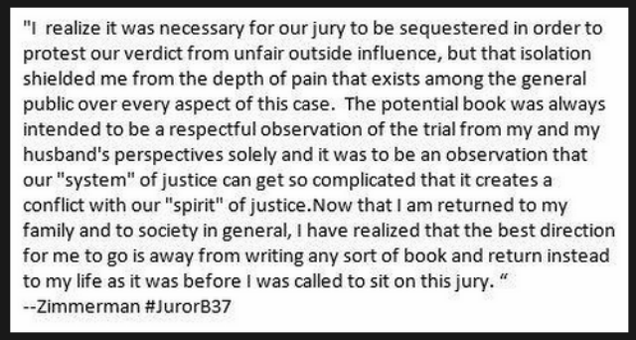 Many on Twitter are crediting @MoreAndAgain for pushing the agent involved to rescind the deal. @MoreAndAgain says this change of heart by the juror is 'bullshit' (OMG I THINK I LOVE THIS TWITTERER), noting that she only 'changed her mind AFTER being dropped by Sharlene Martin
For the record: Please note that the wording of this tweet matches what was originally sent to me privately http://t.co/kSssulbP22

— Cocky McSwagsalot (@MoreAndAgain) July 16, 2013
Exactly. RT @Felonious_munk: Can't spin that. Agent responded to @MoreAndAgain before going public. Juror "decided" AFTER being dropped.

— Cocky McSwagsalot (@MoreAndAgain) July 16, 2013
Please note this, from earlier today:
After careful consideration of the book project with Zimmerman #JurorB37, I have decided to rescind my offer of representation.

— sharlene martin (@sharlenemartin) July 16, 2013
UPDATE 12:43 a.m. My apologies guys; it's almost 1 a.m. and this caught me by surprise—- I am doing my best to get these tweets updated with the correct chain of events. Here's a summary thus far:
@MoreAndAgain started a Change.org petition which was successful in putting pressure on Sharlene Martin to ditch Juror B37's book deal. .@MoreAndAgain tipped Buzzfeed, around the same time that the agent decided to ditch the juror's deal.
Miraculously, THAT story turned into a 'change of heart' by Juror B37, specifically from Buzzfeed which tweeted this:
BREAKING: Zimmerman Juror Decides Not To Write Book About Trial http://t.co/UzZDN55OEz

— BuzzFeed (@BuzzFeed) July 16, 2013
Many on Twitter, including my OTHER spirit guide, dream hampton, took issue
.@MoreAndAgain don't worry that the publisher & press are spinning it we all (& this story went VIRAL hunty) know how it happened! PPL POWER

— dream hampton (@dreamhampton) July 16, 2013
If .@MoreAndAgain would like to correct me on the timeline or facts, please reply to this or DM me on Twitter and I will make updates. I'll stay with this until I fall asleep, guys.
Upeate, 1:04 Tragically, I am out of pinto grigio. It seems that, while I thought I bought two bottles, I only have one and now I—
OH SHUT UP BURT AND STAHP TALKING ABOUT WINE.
Sorry about that. Let's get back to business. This is a reply I gave in the thread below to awesome commenter Melioria, who asked a really good question:
Did Buzzfeed edit their story at some point and just... cover that up? Because my Twitter feed was blowing up about the crappy job they did covering it/not mentioning @MoreAndAgain's role, but it seems like the article now has all the right details.
Just so we're all clear—this is what this is really about:
I think the issue is not WHO gets credit for this, but rather that the story does not become 'OMG I CHANGED MY MIND B/C I AM SO WONDERFUL AND ENLIGHTENED NOW', which seems to be the way the PR/spin winds were blowing.
The point is to show that this juror did not have some heartfelt, sweet awakening to racial disparity—she got dropped by the agent and then, to save face, issued this statement.
That is what the people on Twitter right now are trying to make clear.
OK, back to wine—-I mean, news reporting.
ETA: N/M on the husband's Facebook!!! False alarm.
Oh. THIS.
Dear #JurorB37: Twitter killed your book. It's okay, though, it was in self defense, and our heart was in the right place.

— Amanda Bower (@heyprofbow) July 16, 2013
Here is the link to Storify @MoreandMore put together to collect all the tweets and show the timeline of what really happened.