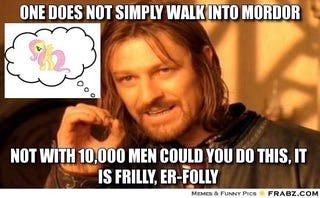 I finished reading Book II of Lord of the Rings (that's the second half of Fellowship of the Rings for you Moria-Orcs who don't know that), which means it's time for a GroupthInkling open thread! This is where the action really starts up ... you know, after the 6 hour committee meeting that begins the book, which is always being inter...
If you'd let me fi...
https://i.chzbgr.com/maxW500/140303…
for example, let's discuss the implication of the influence of Tolkien's philological theories on the composition of the ... hey, what's this doing here?
Okay, I'm serious: if you guys turn this open thread into an excuse to post stale memes, I'll... think of some mean things to say!