So I almost choked to death on a mouthful of coffee this morning whilst doing a double take. Thank goodness I managed to cough most of it directly down my shirt, and thankfully my shirt didn't get too wet because it went directly down the neckhole, all over my bra and immediately soaked in.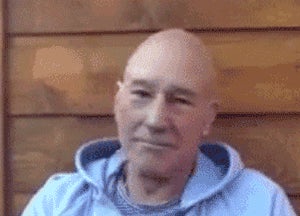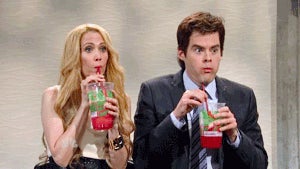 It started with one of the new construction crew members coming and asking me a question, which threw me because when I looked up from my clipboard I was looking at the sternum of tallest young man I've ever seen. I had to crane my neck to see his face, which happens infrequently as I'm 5'8" and can usually just move my eyes for most tallish dudes.
Anyhow, I answered his question and asked him (if he didn't mind telling me) how tall he was. He smiled benevolently down at me and replied "No worries, I get asked all the time. 6'9."
[Internally: SIX NINE! That's fucking bananas! What!?] By now two of his crew members have sauntered over and are waiting quietly a couple feet behind him.
I whistled through my teeth and asked him how many times a day he gets asked about "the weather up there". Pretty much every day, and everyone wants to know why he doesn't just play basketball, or they want to get a picture of him sitting in their small car. (Totally weird request. Right? Come sit in my car, strange dude!)
We laughed and I was about to go back to my work so I picked up my mug and was going to tell them to have a great morning when one of his buddies pipes up "Oh, this monster gets razzed constantly. We call him Cocktamus Prime." As he said "...constantly. We call..." I had lifted the mug and was drinking the coffee. It clicked and I did a double take as I sloshed the coffee down and started laughing hysterically as I also tried (and failed) to swallow. It was too much at once, it went down the wrong hole and came out through my nose and ran down my chin as I half hacked and half cackled.
Cocktamus Prime used his impressive reach to slap me on the back as I died of embarrassment and I waved the "NO NO I'M FINE" flappy wave. They were hovering and concerned till I got it under control, at which point I gave his buddy the thumbs up while telling him "Funniest thing I've heard all week! Sorry, Stretch, I shouldn't be laughing at your expense. I'm fine! Go on and get before you say something that actually kills me."
They went to it and I was left with a vaguely coffee creamy smelling rack all day. GOOD TIMES.
SO TELL ME:
HAVE YOU EVER DONE A SPIT TAKE? WHAT TRIGGERED IT?
~OR~
WHEN WAS THE LAST TIME YOU DID A DOUBLE TAKE? WHAT TRIGGERED IT?