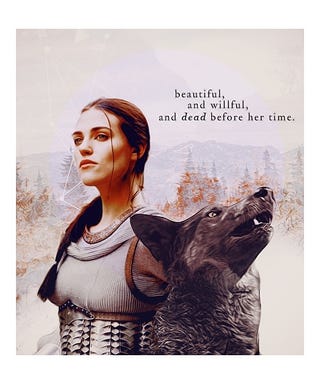 Thank you for the posting privileges! I'm ecstatic to be apart of this community! Obligatory first post here. Here's me in a paragraph:
I'm a stoic Amazonian huntress/shield-maiden that takes everything in moderation except for truth, justice, and glory. I strive in being a force to be reckoned with in the board room, on the court, or on the rugby pitch. Being a voracious reader, I'm always in the final chapter of a book or two. I love international travel, the gym, and meeting new people. I'm tattooed. I know no King but the King in the North, whose name is STARK. Having worked in sports and sales, I'm headed back to school to become a Drug and Alcohol Recovery Counselor.
I try to live my life by the George Bernard Shaw quote below:
"I hear you say 'Why?' Always 'Why?' You see things; and you say 'Why?' But I dream things that never were; and I say 'Why not?'"
Things I'll Post About:
-OKCupid Dates
-A Song of Ice And Fire (I've never seen the TV show unfortunately, my favorite character is Lyanna Stark)
-Queen Medb/Queen Anne Boleyn
-Liam Neeson (JUST KIDDING! I have a mild obsession though)
-Makeup tips and tricks
-Being a tattooed woman in the workplace/society
-Mental Health
-Self Care
-Travel (I travel a lot which is why I'm always broke and don't own property, woo!!)
THANK YOU AGAIN!!!!