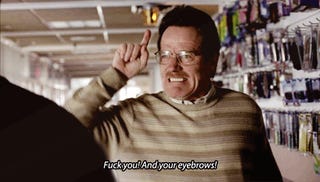 MENTAL HEALTH POST! ICK ICK ICK! RUN AWAY! UNCOMFORTABLE EMOTIONS! EW EW EW EW!!!! Now that those people are gone, let's fucking rock n' roll because we ROCK.
Some of us, we know who we are, are having a hard time. It may be mental health or job related or family. It may feel like all of those things all at once.
Wanna know the reason I'm being all door-to-door saleswoman about HEALTH! Yea? Because it's keeping me going. One positive choice I make every day is to wake up and deal with feeling like crap. And BOY! Do I feel like crap! My appointment with my doctor isn't until next week and I've been waiting nearly a month for it.