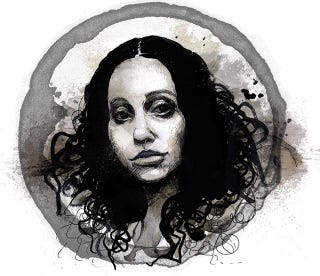 A beautiful piece by "Molly Crabapple" on Vice today about the anxieties women experience when they come up on the first of many "age precipices."
11 days until my 26th birthday and I'm really feeling that nagging tick of the clock.
Some great excerpts:
Age is a weapon society uses against women. Each year that you gain comfort in your own flesh, your flesh is seen as worth less. Thirty, like 40 or 50, is a demarcation line, but a particularly loaded one. Cross it, says the world, and you leave the trifling-but-addictive privileges of girlhood behind. Invisibility this way, ma'am.

-

A man's age, on the other hand, is always right. In Letters to a Young Contrarian, a 52-year-old Christopher Hitchens wondered when he would no longer be called an angry young man. Men like Hitchens go from bad boy to elder statesman.

-

By 30 you're no longer a child. What's often admired in femininity is, as the abstinence speakers say, being as fresh as an un-licked ringpop. White girls particularly (I'm half-white, but aspirin-pale), are imagined to posses innocence. Innocence is supposed to be preserved.

Innocence is not doing. Not running off to New York. Not drinking whiskey till 4 AM. Not fucking that boy or girl because they make your heart scream electric, then waking up unpunished the next day. Not hacking a system rigged against you. Innocence is a relic of a time when women had the same legal status as children. Innocence is beneficial to your owner. It benefits you not at all.

-

To be innocent was to be a victim. A woman of 30 no longer innocent. Thank god for that.

-

Men tell you you'll miss street harassment when it's gone. I don't.

-

In most fields, men have the power. Drinking the countless cocktails with which I solidified professional relationships, I got used to dreading propositions. When I stopped getting them, the delight of being equal, rather than just fuckable, hit me like a kiss.

-

More and more I hate the men and women who cling to youth's helplessness. Clinging to youth is understandable. Shooting your forehead with botulism can look lovely, or at least help maintain your place in ageist capitalism. But why hang on to that know-nothing, white-girl vulnerability? Staying alive has power. The years should give you competence and toughness along with the battle scars. You've survived. Fuck anyone who would keep life's beauty from your grasp.

-

Like many thrilling things women do—fucking or hitchhiking, being demoniacally ambitious or telling an asshole to stick a chainsaw in his eye—society tells us that growing up leads to ruin. Yes, you get older, but you can also grow tougher, kinder, braver. You can claw out the life you wanted. But as you age, the world will tell you you're less worthy, even if you know that's a lie. If there's one thing society won't stand for, it's for a woman to be content.