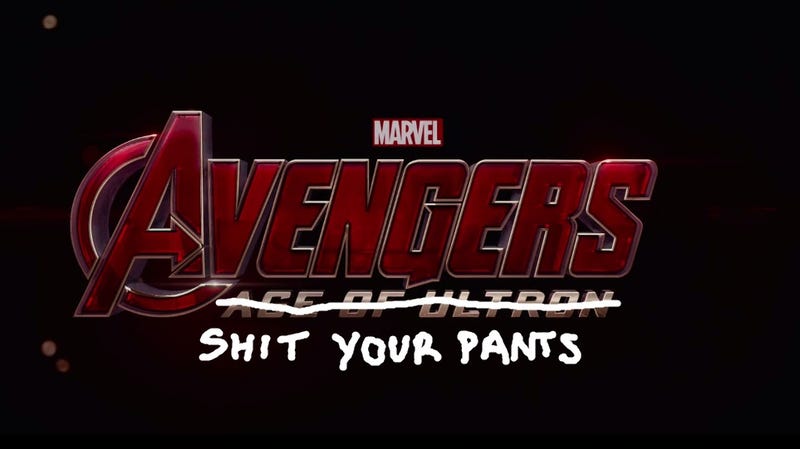 As you probably are aware, the Avengers: Age of Ultron trailer dropped today. At first, it was just a low-res version, but Marvel did the honorable thing and said, "Fuck it, let's release the best version possible." Which is nice of them, dontcha think? In any case, here are the things I learned about the plot of the movie from the scenes in the trailer.
1. Bruce Banner will be shirtless. He will apparently reject his shirt as he rages against the ground. "Dammit, ground, don't make me angry. I'm always angry at you, ground."
---
2. He will then gain a shirt, but lose control of his hair. Perhaps it's a symptom of the gamma radiation - after all, does his hair transform as well as his body? Or is it the same hair on Banner and the Hulk? That must damage it a lot. He probably has lots of split ends.
---
3. Thor will have an awesome red coat. Just look at that coat. You wish you had that coat, don't you? You wish you were manly enough to wear such a red coat and hold a drink in your hand like Thor. You wish.
---
4. But he, too, will lose his shirt. And, unlike Banner, he will rage against not against the ground, but against the water. "WATER! I WOULD HAVE WORDS WITH THEE!"
---
5. The Scarlet Witch also rages against something, but what is it? The sky? We do not know. Or maybe she's just doing primal scream therapy.
---
6. Also, "running fast" will be portrayed with Blue Waviness, as opposed to...anything else, I guess. I mean, it actually looks kind of nice? Different. Not my usual, but nice.
---
7. Black Widow will play patty cake with the Hulk to calm him down. I know what you are thinking: it's just patty cake. But as we learned from Who Framed Roger Rabbit? that's actually code. For sex.
---
8. Also Black Widow will show how she was actually Black Swan first. How much does Joss Whedon love ballet? This much.
---
9. Andy Serkis will be strangely hot with his Abraham Lincoln beard. Seriously, that beard is straight up Abe Lincoln. Honest.
---
10. Also Hawkeye will be in this one. Actually, it looks like he's in a Hunger Games movie, but we'll chalk that up to the fact that anyone running in the woods with a bow and quiver of arrows looks like they are in a Hunger Games movie.
---
So in conclusion:
Holy shit, this looks awesome.
---
Disclaimer: I may have left some characters out. If I did, it was only due to incompetence on my part.