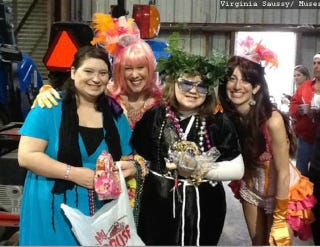 This story happened last year; Jez actually covered it a little when it did. But tonight, as the Muses parade rolls down the street and I hear the drums and music from my house just off the parade route, I'm remembering it again and I'm feeling all the same feels over again.
For a little background for those who aren't familiar with Mardi Gras and carnival season here in New Orleans, it's very much a family affair. The parades are lined with families, and kids, the littlest ones sitting on makeshift ladder seats high above the crowd. Each parade that rolls (and there are many - they start weeks before and there are several a day in the week before Fat Tuesday) is put on and manned by a Krewe. About 20 years ago, the first all female Krewe came together - Muses. They're known for their female empowerment, use of local artists, and their very popular and creative throws.
Last year, the day after the annual Muses parade, a mom blogged about a pretty horrific thing that happened during the parade that year. Her daughter Emily, an autistic girl who loved Muses (she has a calendar countdown to it every year) had been harassed by a group of college aged drunk guys who spilled beer on her, called her a "retard" and loudly talked about how the "retard" was making it hard to enjoy the parade. Emily asked her mom to take her home; refused to go watch the parade from another location saying that other people would just think she was a retard too, and then told her mom she didn't ever want to come to Mardi Gras again.
So they went home. And her most magical night of the year was ruined.
But members of the Muses Krewe happened to see the blog post, and magic started to happen. Within three days, they put together an entire fete for Emily - opening up their top secret Krewe den on a Sunday and getting members of the Krewe as well as the dance teams and walking groups from the parade to show up. Emily walked into the den, with a prominent local news anchor holding her hand as her personal guide to what was basically the entire Muses parade happening at once; their floats were parked there with members throwing specially made throws to her, there were bands playing, and dance teams doing their routines. Local businesses sent gifts - snowballs, t-shirts. Hundreds of members and performers showed up in their parade gear, all for Emily, and they named it Emily Gras.
If you're not familiar with parade season, it's hard to tell you what kind of effort and sacrifice this took. Throwing a parade is huge work - months of practice and work leading up to the big day, which is a surprisingly physically difficult event (I walked for the first time this year - its a 6 mile, about 4 hour start and stop event that you're doing choreographed dancing to the entire time. Your legs feel like jelly when you're done. There was no eating, drinking, or peeing once I had my costume on, which took about 5 hours with hair and makeup). Most of the people involved would do this multiple times in several parades. Getting all of these people there, with two days of planning is amazing, but the groups and members offered before they could be asked.
Mardi Gras gets a bad rep as thinly veiled excuse for frat boys to get young girls to flash their boobs, but it's insanely more than that. It's very much a community pride event with a long tradition of creativity and artistic expression, and very much a family event, and my experiences with it have always been far less drunken sordid revelry and far more carefree joy at being alive and having a good time (still drunk though, I mean, we're not nuns).
And that day, "Emily Gras" even ended up a trending topic on Twitter. And my heart is bursting a little now remembering it, and I just wanted to share. We hear and see so many assholes, but in this case, for every one asshole who made a little girl feel lesser, literally 100s of wonderful people stepped up to balance them out.
I hear the parade in the background, and I hope Emily is there.