I'm 5 minutes into last night's episode of Mr. Robot, and I am freaking the fuck out, I am so full of joy.

---
Christian Slater is one of my first and longest-lasting celebrity crushes. I know this, because there was that one time I saw him on the red carpet at a movie premiere, and my voice had gone up 5 octaves by the end of the sentence I'd been speaking. Ten-year-old me is in love with Christian Slater, and always will be. I don't know how many times I've rewound that one part of Robin Hood: Prince of Thieves so I could look down Will Scarlet's shirt. Christian Slater is a major part of my adolescence. I've watched a lot of his work, repeatedly, and with joy. Even the bad stuff.
---
Even the small parts.

---
Even the doomed television (though that last one he did, I knew wouldn't last, and couldn't open myself to the inevitable heartbreak). Breaking In was a delightful show, that often did little snippets of fan-service, and gave us Easter eggs of fun.
I'm five minutes into the latest episode of his new show, and I realize—this Christian Slater, the iteration in this series, it's one big Easter egg. In Breaking In, he'd do quick little nods to his other work (and it was delightful) but this? This is an ode to J.D. This is a revisiting of Heathers-era Christian Slater. And I am suddenly ecstatic.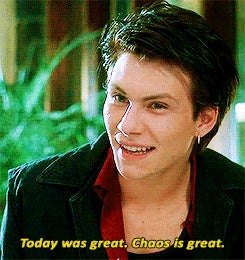 It's his Heathers and Pump Up the Volume-era personae blended and mixed and aged and I cannot wait to see what comes out. I've had high hopes for this show. Rami Malek is reeeally good at playing people with questionable morals, who are harder to read, until you decide they're clearly psychotic. Can't wait to see what he does with this one! The network seems to love Mr. Robot, and is doing a solid job of promoting it. But now that I know this is The Best, Revisited, I want to watch all of it right now.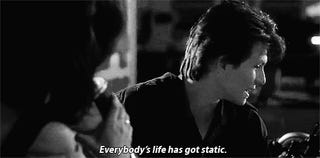 ---
I hope you know how exciting that is. If we're a culture that now adores sequels and the continuing stories of our favorite characters, I hope you see how wonderful it is that we are being gifted with this, albeit more stable, Fucking Psycho. It's like Brad Pitt. There's so much of his 12 Monkeys character in Fight Club, but when it came out, all people talked about was how amazing Tyler Durden was. I agree, but my favorite part was seeing that unlevelled-nutjob-style again. Can't wait to see Christian Slater's version of reinvention!