.
.
.
.
.
.
.
.
.
.
.
.
.
.
.
.
.
.
.
Are we good?? Okay,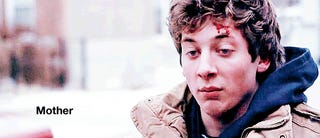 LIP:
I distinctly remember you selling drugs to minors in the back of an ice cream truck so you seriously have no right shaming Fiona. I don't remember you getting this upset when Liam was kidnapped by fucking drug dealers but okay fine, be mad or whatever, leave him to be babysat by your roommate's girlfriend whom you barely know and is obtaining forged prescriptions of Accutane. Go back to your attempted murdering ex-girlfriend Mr. High Horse.
FIONA:
Why does she look so strung out? It's not like she was shooting up in a back alley and she's had plenty of time to sober up. This isn't Pretty Little Liars, quit with the obnoxiously literal makeup. Fiona is boring. Fiona needs to stand up for herself. The writers need to stop telling us it was an accident we get it, either explode or move on!
Speaking of shooting up...
FRANK:
Everything that I loved to hate about Frank is gone this season. And I was really annoyed with that Sammy character until now, now I feel terribly terribly bad for her because everyone is just a dick to her. Frank is gaslighting the hell out of her and it is just so heartbreaking to watch. At this point, I actually want Frank to die.
CARL:
Thank you for the gratuitous Carl subplot. Too bad it is generic and played out. Although the short bus at the end was interesting, I just want more from Carl, because like Sammy, he is kinda stupid, but kinda heartbreaking.
DEBBIE:
Oh my god, I know this is Shameless, so I give them room to handle tough subjects in a rough in-your-face kinda way, but this is how they handle self-harm?? YEESH
IAN/MICKEY:
Oh man. I've got a ticket to the feels train and it is leaving the station. For real, Mickey was bugging the shit out of me with that stupid Russian prostitute storyline. But that scene towards the end, and then his wife looking in... I could not handle my shit. That is why I watch this show. But I have to note that, if you're a manager of a night club/brothelish place, why are you doing paperwork at the bar like that's normal? That's not normal. And I've been to gay bars in Chicago, they ain't look like that. Boystown is like, high-end gay, not $25 lap dance gay (joking joking joking here!)
VERONICA/KEV:
Everything they do is so great but it's also like ummmm what?? What am I even watching??
Also, Veronica's hair is always. so. awesome.
Veronica has had it with this nonsense