Some organizational ground that needs to be covered for the horror club, as follows: 1) Schedule of upcoming films and discussion dates; 2) Discussion leader selection; 3) Notifications, emails, organization, etc.
1) First thing's first: THE SCHEDULE! Below are the dates of our discussions, and the films we will be chatting about. After some consideration, I scheduled out through the first discussion day of February.
| | |
| --- | --- |
| Sept. 22nd | Suspiria |
| Oct. 6th | Sleep Tight |
| Oct. 20th | Lovely Molly |
| OPTIONAL: Oct 30th | All Hallow's Eve Eve Special: Carnival of Souls |
| Nov. 3rd | The Amityville Horror (1979) |
| Nov. 17th | Sunshine |
| Dec. 1st | American Mary |
| Dec. 15th | Jacob's Ladder |
| Dec. 29th | Lake Mungo |
| Jan. 12th | The Woman |
| Jan. 26th | Session 9 |
| Feb. 9th | The Orphanage |
This can be accessed in a Google spreadsheet here.
Since we had so many great movies nominated and Halloween is coming up, I figured a Halloween-eve chat about the classic Carnival of Souls (1962) might go over. If folks are against that, let me know.
2) Discussion leaders
For each movie, it would be great if we could have one volunteer to lead the discussion — by which I mean pose some questions and comments to jump start the conversation, and curate the thread more or less. I will do it this time around, for Suspiria. The discussion leader will also be responsible for putting up the thread on Sunday evening at the appointed time (and again, I'm thinking 8 PM EST/5 PM Pacific, but please comment if you have quibbles with that time).
To keep things somewhat simple and make sure nobody thinks so far ahead they forget what's going on, we are going to schedule the next four discussion leaders after Suspiria. This means: if you would like to volunteer to lead for Sleep Tight, Lovely Molly, Carnival of Souls, or Amityville Horror, please say so in the comments here! We will schedule more discussion leaders at the end of October. If you nominated the movie, you get first dibs on leading discussion, otherwise if there's more than one volunteer I'll pick the leader. Either randomly or through some sort of Hunger Games scenario (kidding, mostly).
3) Other housekeeping
For the purposes of the aforementioned Google doc, I have set up a Google account. The email is ineffectivebarricade@gmail.com (the name is Absurdly Ineffective Barricade). I don't plan on making a G+ page or anything, although if anyone feels administrator-y in the future, I'm sure you could have fun doing so. If people are interested, it has been suggested that an email list could be curated through this account to keep everyone posted on upcoming discussions, etc. If anyone wants that to happen, just send an email to the Gmail address from whatever address you'd like to use, and indicate whether you'd prefer your inclusion be open or BCC. While I generally avoid trusting internet strangers, we are family here...and I will give you my solemn promise on whatever grave you wish that your information will not be used for nefarious purposes. If you want to participate as a BCC then nobody but group administrators with access to the Google account will have access to your email.
Of course, if this is a concern, you can also create a throwaway address. After all, it's not the address that's haunted, it's you. ;)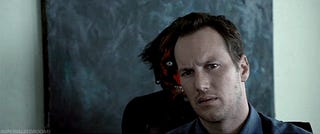 Okay, have at it, friends!