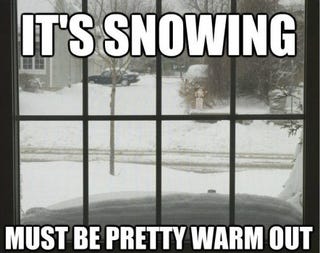 Minnesota has been my home for my entire adult life; and love it or hate it, there is nothing like the first snow of the season. We talk about the epic snow storms for years to follow, and we boast about our hearty Midwestern upbringing. But in those few glorious months of bike riding and reminiscing about the cozy times spent indoors (4-6, depending on the year), we completely forget about what life in winter actually feels like. Here are all of the things that have been flooding my brain with importance in the last week, in preparation of today's snow storm, and the oncoming months of winter:
It's a good thing I keep my ice scraper in my car year round!
My winter boots are still caked in salt from last winter
"Storm's a comin' " This is how I greeted everyone I crossed paths with on the day before the snowstorm.
Fuck, now we are gonna have to start learning the weather in wind chills again
Tip extra big any time food gets delivered and it's -0°F out, double if the wind chill is considered "record low"
Slipper socks and wool, you are glorious inventions!
So. Much. Dry. Skin.
Who are all of these fools that buy out Menard's like winter is a new thing before every storm?
At least I totally understand the madhouse that is the grocery store
RUNNING OUT OF WIPER FLUID WHILE ON THE HIGHWAY IS THE MOST TERRIFYING THING EVER!
Everyone drives like an asshole on the first day. Just try not to be another asshole on the road.
Walk like a penguin. Always walk like a penguin.
Never try to guess when this will end, you will always be wrong. But when it does, take full advantage of every moment (at least before your allergies kick in)
HAPPY SNOW DAY, MINNESOTANS!