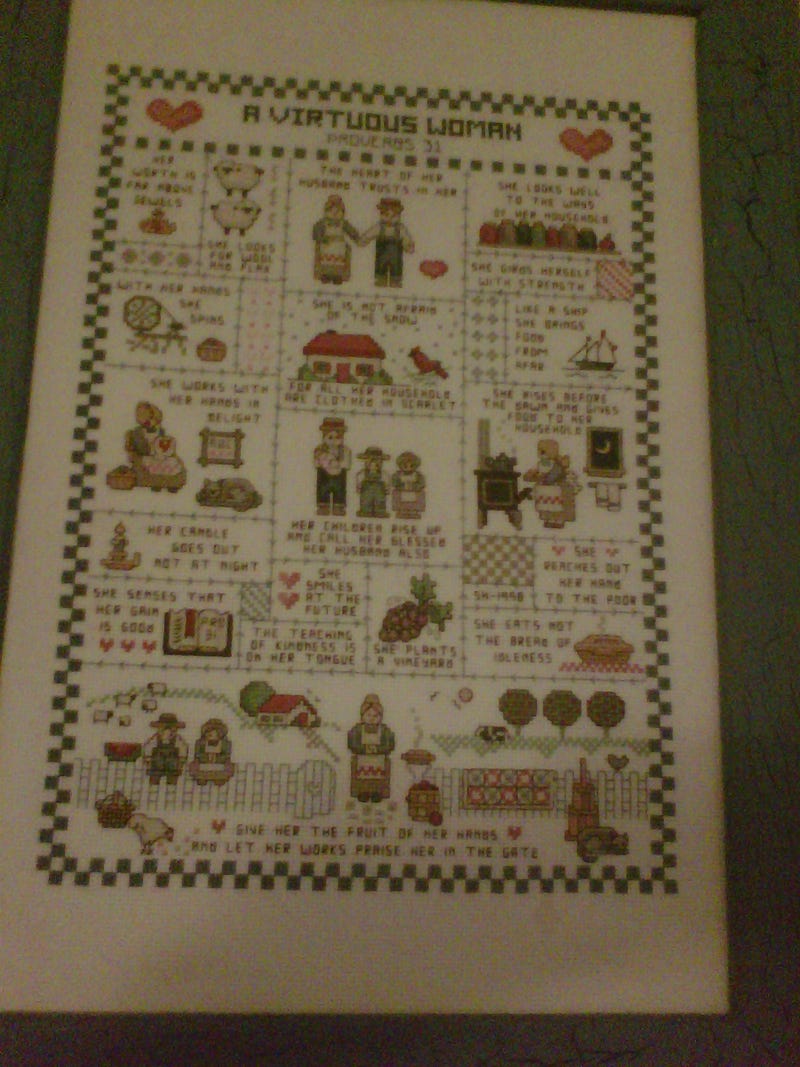 I was putting up pictures and stuff, and pulled out this cross-stitch that my aunt gave me when I got married. As you can see, it's portions of Proverbs 31 which describe, according to the cross-stitch itself, a virtuous woman. So I started thinking, "Well, am I virtuous? How do I measure up?" I mean, let's be clear: I've left my husband, so according to many people I have known in my life, possibly including the aunt who made the cross-stitch in question, I'm about on par with the Whore of Babylon. But what does Proverbs think of me? Now, I'm clearly not a Biblical scholar, and whether or not any individual puts any sort of special store in the words that come out of this book is wholly up to them. But I thought it might be interesting to see where I stand, according to a book that I set great faith in.
So, I looked up Proverbs 31, because I'm not trusting my entire virtue to thread. The passage is lessons that a king's mother taught him. There's a bit at the beginning about avoiding strong drink, unless you're poor or depressed in which case, have at it. (See? Even in the Bible, We Do Not Sober! Yay!) And then comes the relevant bit:
A capable wife who can find?
She is far more precious than jewels.
The heart of her husband trusts in her,
and he will have no lack of gain.
She does him good, and not harm,
all the days of her life.
She seeks wool and flax,
and works with willing hands.
She is like the ships of the merchant,
she brings her food from far away.
She rises while it is still night
and provides food for her household
and tasks for her servant-girls.
She considers a field and buys it;
with the fruit of her hands she plants a vineyard.
She girds herself with strength,
and makes her arms strong.
She perceives that her merchandise is profitable.
Her lamp does not go out at night.
She puts her hands to the distaff,
and her hands hold the spindle.
She opens her hand to the poor,
and reaches out her hands to the needy.
She is not afraid for her household when it snows,
for all her household are clothed in crimson.
She makes herself coverings;
her clothing is fine linen and purple.
Her husband is known in the city gates,
taking his seat among the elders of the land.
She makes linen garments and sells them;
she supplies the merchant with sashes.
Strength and dignity are her clothing,
and she laughs at the time to come.
She opens her mouth with wisdom,
and the teaching of kindness is on her tongue.
She looks well to the ways of her household,
and does not eat the bread of idleness.
Her children rise up and call her happy;
her husband too, and he praises her:
'Many women have done excellently,
but you surpass them all.'
Charm is deceitful, and beauty is vain,
but a woman who fears the Lord is to be praised.
Give her a share in the fruit of her hands,
and let her works praise her in the city gates.
Wow, that's a LOT of stuff I'm supposed to do! But here's the first thing I notice: The translation I pulled the entire passage from doesn't say "virtuous woman," it says, "CAPABLE WIFE." Those are really different things. So I looked through a few other translations, and clearly my aunt was using King James, which is probably the least accurate translation out there. Mostly the translations I found used words like "capable," "wise," "intelligent," "worthy," and "good." Some used "woman," some used "wife." So, from the looks of it, this passage is Mrs. King telling her son what he needs to look for in a wife. And, really, it's some pretty good advice. Let's break it down:
First off, she tells him that if he can find a capable, intelligent, wise woman to marry, he should count himself lucky and understand that she is awesome. Consider that, when this was written, women were worth very little. A man's cattle was more valuable. But, according to this, a smart capable gal is worth more than jewels. That's a pretty bold statement.
Next, we get a LOT of stuff that this woman is going to do for her husband and family. And that means that this passage gets a lot of flak from feminists. But for the most part, it all boils down to something along the lines of, "She works hard to make sure her family has everything they need." And that's something I can get behind. Well, OK, I may not spin and make clothes for my family with my own hands but I definitely work as hard as I can to make sure that my kids have everything they need and then some. So, check.
But wait, there's more. Take this bit: "She considers a field and buys it; with the fruit of her hands she plants a vineyard." So, no, I'm not going out and buying fields, but I think the point here is that this woman saw an opportunity, made a decision, and then worked to make sure it bore fruit. Notice it doesn't say a single thing about consulting her husband. She makes her own decision and follows through. My kind of gal. I can get behind this.
OK, so what other qualifications are there? Well, there's a bit about caring for others, and about speaking with wisdom and teaching, and there's a bit about being strong and dignified and looking to the future with joy. And there's another bit about being strong — both mentally and physically.
And then there's a bit where her husband LISTENS to her. He trusts her, and has "no lack of gain." He recognizes how awesome she is, and lets her know it. And he lets others know it.
So, the way I see it, I'm doing pretty well. I work hard, I provide for my family, I make decisions on my own with thought and follow through. I think before I speak. I care about other people. I think that Mrs. King would have approved of me.
And here's the kicker: There's not much in this passage about what the husband is supposed to do. That's not the purpose of it. But there is a bit: He's supposed to trust his wife, and listen to her. And by that score, Separated Asshole really let down his end of the deal.
So, the upshot of all this rambling is this: I REFUSE to feel that I have done something wrong by leaving that dead weight behind me. I haven't. I'm awesome. I'm more precious than jewels, dammit.
So, Mr. Christian-Private-School-Principal-Who-Interviewed-Me-and-Made-the Stink-Face-When-He-Realized-I-Was-Separated, you can suck it.
Clearly, this perspective comes from the Judeo-Christian tradition, but if anyone out there has another tradition's handy-dandy definition of what a "worthy" woman should be, I would love to hear it.