For the first time.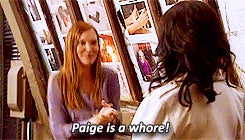 Just finished the pilot and getting into the 2nd episode. Sam Cooke song in pilot and opening with Stevie in the second? OMG, YES PLEASE TAKE ME.
I'm pre-emptively feeling bad since I don't think Gaius Baltar stays with the show for too long (DON'T SPOIL HOW, just confirm/deny). Also, the tech guy (who I think I heard dies during some sweeps time) was a sidekick in Party Girl which I LOVE.

So yeah. Die-cutting felt while feeling shitty, getting yelled at on Gawker, watching Link look ridiculous, and letting myself slip into the Rabbit Hole called "Scandal." I look forward to soaking up the Shonda with you folks.