So, ShinyBro met Boyperson this week. It went well (yay!) but during the post-meet debriefing, Bro makes a proclamation about how "men can only be friends with females if they want to sleep with them or one of their best friends. I'm a guy. I know how we work. If your boy has a lot of girl friends, he wants to sleep with most of them."
Females.
FEMALES.
FEEEEEEEEEEEEMALES.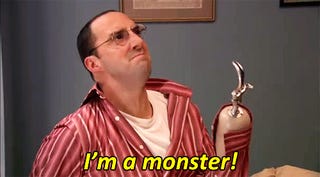 (I tried to find an "i'm a failure" gif, but couldn't. Enjoy Buster).

(I'm gonna go ahead and ignore the stupid "When Harry Met Sally" argument here because it's just not worth addressing since I am bisexual and have MULTIPLE FRIENDS OF BOTH SEXES [edit: and a few non-binary friends] APPARENTLY I'M SUPPOSED TO HAVE NO FRIENDS).
MY BROTHER CALLS WOMEN FEMALES. HOW DID THIS HAPPEN. WHERE DID I GO WRONG.
ETA: He also said "if a guy is friends with you, it's to get to [absurdly good looking friend]." THANKS SHINYBRO. THANKS.