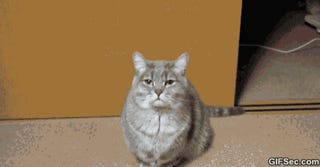 One of my greatest irrational fears is of demonic possession.

Looked at objectively, it's pretty ridiculous. My spirituality is constantly in a state of flux, and even when I was a part of an organized religion, demons and demonic possession weren't a part of that belief system. I don't think I ever remember hearing either discussed, except in the context of horror films. Rational Fluter can talk about it and laugh, because it's a silly thing to be afraid of, particularly in the context of my life.

Looking at it like your resident, slightly eccentric GTer, even trailers from upcoming films are enough to set me off. Halloween becomes a dicey time to watch TV, because those commercials are freaking creepy, and I laugh them off while waking, then lie awake and stare at all the shapes and shadows in our dark bedroom, hoping that all the pounding is my heart and not a creepy-crawlie from another realm come to collect my soul. My feelings are not those of a rational person.
So last night, I woke up three different times, covered in sweat, from a horrible dream. FluterDude and I were living in a house that included my childhood bedroom, and in the dream, I woke from sleep to find a tiny tuxedo kitten in the room.

The kitten was an agent of the devil. It started by writing me notes on a chalkboard that was sitting on my childhood dresser. The only one I remember clearly is, "I want the CAKE Cd." I gestured that the devil kitten should take the CD but this enraged the devil cat, and it started to attack my face. Then FluterDude woke up, and the attack became more playful. FluterDude was convinced it was just a regular kitten and it was being annoying about sleep time.

Every time FluterDude would fall back asleep, the cat would start to attack my face and use its low, creepy voice to make threats. Then, FluterDude would wake up and the cat would play innocent. FluterDude kept putting the cat out of the room and falling asleep, only to have the cat appear in the bedroom and attack me again. He'd wake up again and yell at me, put the cat out, and the cat would come back to torment me again.

I was eventually woken up by ridiculously early a.m. text messages, and have no idea what the demon cat wanted (other than to make me sweat through my pajamas and the blankets, apparently). FluterDude observed that our cat is currently staying at the kennel and must be trying to communicate his displeasure telepathically. (It's his fault the cat is at the kennel, though, and Sh*tty K*tty prefers me to him, so I'm not sure why he'd be tormenting my slumber.)

WHAT DOES IT MEAN, GROUPTHINK? WHAT DOES IT MEAN?