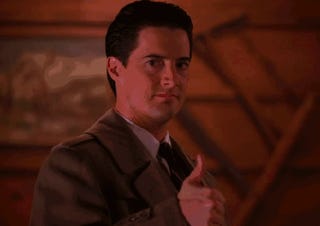 I know we've had a lot of watch parties recently (Doctor Who and Sherlock and the horror watch-in), but I'd really like to share in a regulated binge re-watch of Twin Peaks during the next few months. A lot of people have never seen the show which would allow a group-watch experience for any interested first-timers (and how fun would THAT be!).
Let me know in the comments and share the post throughout tomorrow for any other interested parties. I have some thoughts on how to structure it but would love to hear others' ideas for fun and merriment (like live watching important episodes together with chat, etc).
EDIT: Wow! Awesome! Any preference on scheduling? An episode a week for a little while following a watch of the first two episodes?? Or perhaps I'm thinking too conventionally with modern TV watching experiences. We could have newbies do episode recaps?