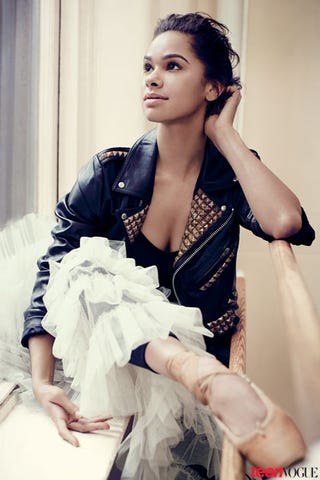 So the lovely and talented ABT ballerina Misty Copeland has written a memoir which comes out next week. Here is a link to a photoshoot for Teen Vogue and an excerpt from the book.
I know there are some Misty fans out there in Groupthink Land, and I was wondering if anyone wanted to read it and have some dedicated chatty type threads in the upcoming weeks? I think the book will stir up some important discussions about poverty and high culture, racism, standards of beauty, body issues, the arts, and I also just really want to support Misty because she has worked hard to achieve something amazing and she deserves the success she has earned.
I also think it is so important for ballet to promote Misty Copeland because ballet has a terrible racism problem and although they make gestures toward correcting it - ABT even started an initiative with Misty recently to bring dance instruction to under served communities - I don't think it will stick if little girls see how black ballerinas are still not treated as acceptable to cast as white swans. They can be firebirds, in full body suits, or dance contemporary stuff because their bodies are supposedly more suited to "athletic" roles than fragile, feminine white swans and ghosts and sylphs. I'm sorry but if I can believe a white woman in a black tutu is a white swan, I can believe a black woman in a white tutu is a white swan. If I can believe a woman is a motherfucking ghost, I don't need her skin to be white. It's interesting because although I'm sure black male dancers face racism as well, they seem to have made more headway and I'm sure that is a direct result of the way beauty standards and femininity are so profoundly white.
Remember Michaela DePrince? She dances in the Netherlands now. Black ballerinas are sorely underused in the classical repertoire and and she wanted to dance the classics, which she couldn't do at Dance Theatre of Harlem, which only really dances modern and contemporary ballets (the only contract she got after she finished her training at JKO, the ABT feeder-school she won a scholarship to at YAGP. ABT offered a contract late in the game, after she'd already signed with DTH, but I question whether ABT would have used her in the capacity she wants and deserves. She seems very happy and fulfilled artistically at Het).
Precious Adams is another extremely talented up and coming black ballerina to watch. She just placed third at the Prix de Lausanne and she is going to graduate from the Bolshoi academy soon. This is a rare feat for any American, but for an African American woman it is practically unprecedented. And the terrible racism she has endured to receive this training is shameful. She has really beautiful lines and stage presence, and I wanted to fly to Switzerland and high five her when she performed her Aurora variation at the Prix without tights, her pointe shoes dyed to match her skin. In the documentary First Position, the one that featured Michaela DePrince, Michaela's mom talked a lot about how something as simple as matching things like tights or shoes or bra straps to darker skin is difficult. Pink tights and shoes are supposed to simulate white-person skin, and I just love that Precious Adams was like, nope. (She also won the contemporary category, which was well-deserved, and interesting to me since so many black ballerinas are relegated to contemporary. You could tell at awards she was a little let-down, like, of course it's contemporary, but then when she got third overall, she cried. I am so glad she also won third overall, it means she has a scholarship to a year of training at pretty much any major international school.)
As a random aside because I love this pic, Misty has signed on as an Under Armor model recently:
Anyway, anybody with me? Ballet needs to shape up if it's going to stay relevant in our culture, and people need to pay attention to what Misty Copeland has to say about it. Ballet cannot continue to treat black ballerinas like they have no place in classical roles. They clearly do. These women have had to prove themselves ten times over, more than their white counterparts, I would argue, and ballet must stop discriminating against these artists because I do not think it will survive if it can't.