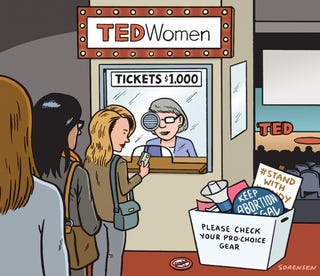 Jessica Valenti wrote a new piece for the Nation entitled The Empowerment Elite Claims Feminism about how the widely popular TED and TEDxWomen talks have been intentionally excluding any conversation about reproductive rights. Here is an excerpt:
"

I discovered that TED and TEDWomen have never featured a talk on abortion.

…When I asked around, the consensus was that the omission was simply an oversight. But it turns out TED is deliberately keeping abortion off the agenda. When asked for comment, TED content director and TEDWomen co-host Kelly Stoetzel said that abortion did not fit into their focus on "wider issues of justice, inequality and human rights."

"Abortion is more of a topical issue we wouldn't take a position on, any more than we'd take a position on a state tax bill," Stoetzel explained. She pointed me to a few talks on women's health and birth control, but this made the refusal to discuss abortion only more glaring. In the last three years, the United States has seen more abortion restrictions enacted than in the entire previous decade; the United Nations has classified the lack of access to abortion as torture; and Savita Halappanavar died in Ireland because a Catholic hospital refused to end her doomed pregnancy. Just how is abortion not an issue of "justice, inequality and human rights"?

"
NARAL have issued a letter to the organizer of TED talks in response to the release of this peice (Thanks to user Aloe-Vera for sharing). Here is an excerpt
Given the wealth of evidence that access to abortion care is a core human right, and closely related to issues of inequality and justice, I am concerned your organization has fallen prey to the insidious campaign by an extreme minority to silence conversation about the role reproductive freedom plays in building healthy families, healthy communities and a healthy world.

Look at the evidence:

It is precisely because an honest conversation about reproductive freedom and access to all methods of family planning explores core issues of autonomy, self-determination and sovereignty that we feel it fits squarely within TED's mission of spreading ideas with the power to change attitudes, lives and ultimately the world.

The intersection of abortion access and human rights is at the forefront of the cultural conversation. Just last year, the whole world watched as a young mother and wife was almost allowed to die in El Salvador while being denied a life-saving procedure to terminate her pregnancy. And this discussion governs our ability to do cutting-edge research using state-of-the-art methods to treat chronic diseases; look at how opposition to abortion has fueled attacks on and even limited funding for critical stem-cell research.

In fact, the hesitation to discuss these issues among inspired thinkers, writers, scientists and advocates prevents us from moving forward into an enlightened future.