Spoilers! Please enjoy this spacer gif of the world's most important sport* in action: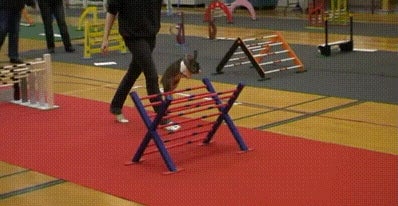 Anyway. Project Runway! In this latest episode the judges act like they are so confused by crop tops with high waisted skirts and pants, like it was sooo strange, and looked like a cheerleader, and whatever else. This style is literally everywhere right now! LITERALLY EVERYWHERE.
Even Kelly's look with the cookie monster vest is honestly in style right now with a certain kind of girl.
Nina was all, "a nine year old would wear that!" GIRL. DO YOU EVEN BLACK MILK? I mean, I don't like fake fur or real fur just bc that's not my style, but Forever 21 has twenty-one (ha!) different furry vests for sale right now, and that's just vests! Include coats and it's even more! I happen to hate all of them, but if one store thinks stocking 21 different kinds of something is a good idea, I assume people are buying it! I mean, maybe this thing they call "Just Fab," which I have never heard of before watching Project Runway, is for women who have outgrown the Forever 21 stage of their lives, but Kelly's look is just a more vibrantly-colored version of stuff I see all over Urban Outfitters and that kind of place these days. Like, you can hate it, but you can't deny that tons of girls would buy it.
I bet if someone walked the French Fry outfit down the runway Nina would be like, "snack food on clothing?! This is NOT EDITORIAL." Although I feel like she'd have to love the french fry outfit bc it's everything, but she hated Kelly's look and to me they have the same vibe. I would wear that stuff if I had a mid drift I was willing to show in public!
Also, what is it with Zac Posen always running his hands all over the models when they inspect the clothes? They all do it, though—being a model for this show looks like it must suck, hearing Heidi go on about how sad your "boobies" look in shitty clothes week after week while the judges all shove their hand up your skirt to see how the hem was done.
*When life gets rough, I like to imagine dropping out of all of it to devote myself to professional bunny training.