Hey everyone! I just wanted to touch base and see how people's art projects are going! I know I follow some of you on IG so I can see what you are working on but maybe you're a bit less inclined to share on social media or share that social media on GT. As we know, I dox myself constantly because everyone including my mom, knows I take off my clothes for money whenever I possible can - but it you want to keep your life private - I respect that because everyone has different levels of comfort. They say sharing is caring, but not with deadly diseases, STDs, or personal information that just is a bit too personal.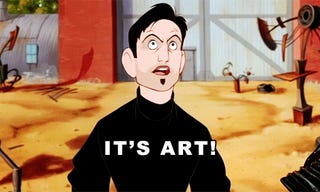 So I wanted to ask you to divulge your projects, as anonymously or blatantly as you choose. What crafty thing are you working on? What crafty or artsy thing are you lusting over? I go on art walks in my neighborhood every month so we play a game where you have to choose a piece of art to exist in your fictitious home. It means a lot of silly choices (hello light fixtures that look like hands, or a whale planter filled with petunias... oh no, not again) or seriously lovely art work that you can't afford but wish you could anyway.

So share some art, your own or that you love!

I will share what I am working on in the comments.