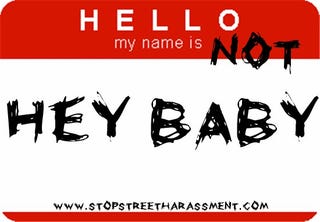 OMG You guys... I can't even handle this. It's too early.
Over the past month, the GOP and libertarians have criticized efforts to curb sexual harassment on college campuses.
WHY YOU ASK???
Because they claim it is "de-eroticizing universities" and these efforts violate free speech. Give that a minute to sink in. Yes. I kid you not. These policymakers are against current efforts to curb sexual harassment on college campuses, because it violates the free speech of the sexual harassers. God forbid they don't have free rein to violate other people (mostly women) at will!
If that isn't enough to make your head explode, some very prominent lawmakers have jumped on the bandwagon, namely Senator John McCain. Last week, he sent a letter to Attorney General Eric Holder. In his letter, McCain accuses Assistant Attorney General Tom Perez and Department of Justice (DOJ) lawyers of having "single-handedly redefined the meaning of sexual harassment at all universities and colleges across the country." Citing assertions made by the Foundation for Individual Rights in Education, McCain suggests that guidelines set out by the DOJ and the OCR with one university (the University of Montana) in the wake of increased student protesting and complaint over the epidemic of rape culture that has spread across college campuses nationwide would somehow restrict free speech.
The agreement McCain objects to was reached in May between the DOJ and OCR and the University of Montana. This following a string of high-profile sexual harassment and assault cases that were horribly mishandled by campus authorities. In one case previously reported on by Jezebel, a woman who reported her attempted rape was told by police "sometimes girls sleep around and then regret it," "not to expect much" and told that half of all rape allegations were false. The final agreement is so gauged that it has been met only minimal optimism from advocates.
Over the last few months, critics of the agreement have attacked one particular piece of the lengthy settlement, which is meant to help make students feel more comfortable reporting behavior they find harassing rather than trying to figure out how to interpret the law themself...
ALL THIS SECTION DOES is define sexual harassment for student reporting as "any unwelcome contact of a sexual nature." Even though that law enforcement has repeated over and over that only conduct that is "severe or pervasive" and creates "a hostile environment" will be subject to enforcement, and that the guidelines are in place to "ensure students are not discouraged from reporting harassment." Of course that hasn't stopped these assholes (McCain and other dickhead conservatives) from insisting that this section creates a new and expanded definition of sexual harassment, which... wait for it....could even encompass a student asking another on a date. (wut???????????)
UGHHHHH SCREW THESE GUYS... Do they really think implementing policies that make it easier for students to report sexual harassment will ACTUALLY lead to people report being asked on a date as sexual harassment?? Please someone!! Let's protect the poor poor aggressors. God forbid their right to violate another person's body or space be infringed upon! IT'S FREE SPEECH!!