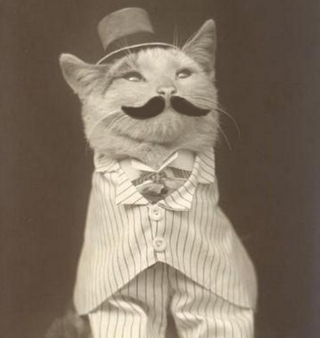 ---
ROUND ONE OF THE MUSTACHE BATTLE BEGINS, BY THE GRACE OF FLUTERDAD.
This is the Interview Round! If any contestants or prospective contestants have questions, please refer to last week's post explaining the rules first. That post also lists the judges, so you are informed of who to bribe.
THE FOLLOWING QUESTIONS NEED TO BE ANSWERED IN THE COMMENTS. IMAGES ARE NOT REQUIRED, BUT PHOTOS, GIFS, AND ARTIST'S RENDERINGS ARE NONETHELESS ENCOURAGED.

1. Given that most mustaches already foster positive facial hair relations between such diverse groups as Mutton Chops, Goatees, Soul Patches, and Picadilly Weepers, how do you think mustaches can expand that role into fostering world peace?

2. What is the greatest challenge facing mustaches today?

3. And finally, can you tell us all about your idea of a perfect date?
Your answers are eagerly awaited!
---
GOOD LUCK, AND MAY FLUTERDAD BLESS.