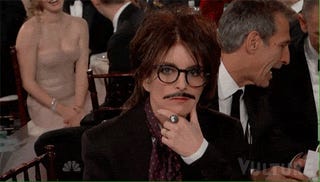 ---
TONIGHT THE ANSWERS TO THE SECOND ROUND OF THE MUSTACHE BATTLE, BY THE GRACE OF FLUTERDAD, ARE BEING POSTED! JUDGES - CONVERSE VIA WHOSISTS' EMAIL TO MAKE YOUR DETERMINATION! AUDIENCE - FEEL FREE TO DISCUSS OPINIONS IN THE COMMENTS!
---
Dweeze shows off his Mustache, which is multi-talented!
croguesberg's Mustache is a freakin' superhero!
Iron Mam is posting on behalf of MicroDork's Mustache! A latecomer, sure, but incredibly talented at bringing the cute!
Ph. Dad's Mustache uses poetry to explain its talent!
FluterDale offers a LadyStache, which is kinda its own category as it sometimes does not exist!
Penabler got kidnapped by aliens or something!
OakenPeter may also have been kidnapped by aliens!
Bobby will do whatever the hell she wants!
---
So, what do you think, GroupThinkers? Comment away, or vote in our public opinion poll! Were you moved by Ph. Dad's Mustache's poetry? The Renaissance-man savoire-faire of Dweeze's Mustache? Are you afraid of Bobby? Let us know!
---
MAY FLUTERDAD BLESS!