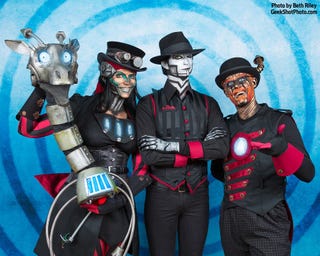 Hi everyone, and thanks mods for the posting privileges! For my first GT post, I want to introduce you all to a band that I'm a bit obsessed with at the moment - Steam-Powered Giraffe.
As a troupe of robots who were created back in the 1890s, they're ostensibly steampunk, but their music runs the gamut from music hall, to rockabilly, to really lovely ballads, to pop music covers. The robots have a really in-depth backstory, and one of the things I love most about it is that they have incorporated one member's gender transition into her character's story in a really sweet way. In addition to their singing and miming, the members of the band are also all really talented artists, and in fact, Isabella 'Bunny' Bennett is releasing a children's book next year, which is a fairy tale about being trans.
I've put some of my favourite videos from them at the bottom of this post. What awesome bands are you listening to lately?