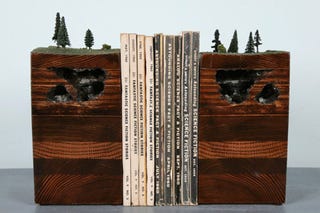 "Bookends of the earth" by Garth Borovicka.
http://www.garthborovicka.com/Bookends.html
They're made from layered planks of wood, so they resemble layers of earth and sediment, and there's a tiny diorama on the top. They run about $200 for a set of 2, which ain't cheap, but they're handmade, and each one is unique.
I like that they are tall enough to securely anchor tall books. I find shorter book ends allow tall books to flop over.