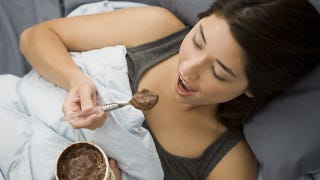 Let's talk worst habits before bedtime!
I should really be sleeping. Instead, I am sitting in my bed with a box fan blowing on me because I am a nighttime showerer. I also put off doing my deep conditioning until 9:30 pm, and then let it soak for an hour and a half while I watched Bob's Burgers. I could use a blowdryer, but I just spent so long moisturizing that I don't want to ruin that by immediately heat styling it; and I get more coverage with the box fan. This is maybe the worst time to be overly concerned about my hair.
I am also really resisting the urge to do my nails. Does anyone else only get the habit to do their nails right before bed? Then I end up waiting for it to dry and look like a dainty fool trying not to touch anything since it's only the top coat that's dry, and you know I'll just smudge it.
What bad habits do you have right before getting into bed?