Details of the Luketic version of the Expendables has been released and it sounds dumb as hell. FEAR NOT! There is another version by Adi Shankar in the works that already has Gina Carano and Pam Grier attached to star. No other details have been released but that does not mean we can't make some up. Be aware that when I talk about weapons and intelligence groups, I'm making shit up. If this was serious (like someone is going to offer me to do this for real) I would have deeply researched.
Let's start with the synopsis that Luketic is apparently bringing to the big screen:
When America's Navy SEALs are wiped out trying to penetrate the island lair of a deadly despot who has captured one of the world's top nuclear scientists, it becomes clear that there is no such thing as the right man for the job and that this is a mission so impossible that only women can handle it. The only way in: some of the world's deadliest female operatives must pose as high-class call-girls shipped in by private plane to satisfy a dictator–and instead save the scientist and the day.
Well that was stupid. Let's get rid of that story and start over:
The Expendables: ISIS <——-Working title

Two years after the events of Expendables 2, the daughter of Vilain, Cassandra, has put a plan in motion for revenge that could start WW3. With the main Expendables trying to regroup after a fail mission that involved Cassandra*, Barney Ross approaches an old friend, Tiny (Angela Bassett) for help. Knowing she was member of ISIS**, (an inactive organization whose members were the leading women of the military, intelligence agencies and top security groups) Ross hopes that Tiny can revive the group to help stop Cassandra.

Tiny enlist Diamond, Ethel, Miriam, and MK*** to help with the effort. Together with 7 other women, they infiltrate Cassandra's organization and the security detail of an ambassador that has been identified as the target of Cassandra's plan. Then some violence, explosions, and some other action stuff with dialogue (that is smart, witty, and fun) stirred into mix.

Then some other actiony action stuff with bigger explosions and car chases happen. Then the final battle and 2 side battles happened but Cassandra escapes without her plan working. With ISIS saving the day, Ross approaches the group with another job offer****.
See that above? It wasn't that hard to come up with something that won't essentially reduce the women to sex objects with guns. Plus, I am pretty sure I just came up with something that was Academy Award winning worthy too. (Please no statue just a blank check please.)
Now let's move on the casting, shall we? We will start with the awesome women that are attached to the Shankar project: Pam Grier and Gina Carano. Please be advised that you might not like my choices. Please be advised I do not care if you do not like my choices (after reading feel free to add your own). This is all in good fun. There is no particular order these women appear in. You will also notice that this list is very diverse because that's how real life works.
Moving on, I will provide some background (just background, doesn't have to appear in the movie) and some facts/what the characters do in their off time. I will also explain why I chose them.
Let's Begin:
---
Pam Grier as Diamond
Diamond co-founded ISIS along with Ethel. She is a former Army [something that sounds deadly and exciting] that was considered #1 in her field. She now works for Baron Corp, a top mercenary group, in a off-the-books unit that follows no rules and do what is necessary to get the job done.
She also coaches her granddaughter's Badminton team, her grandson's fencing team and runs a cookie & candle delivery (It also houses her equipment for her work) that has been in the family for generations in her free time.
Reason why Pam Grier was cast:
Cause she is Pam motherfucking Grier. That's why!
---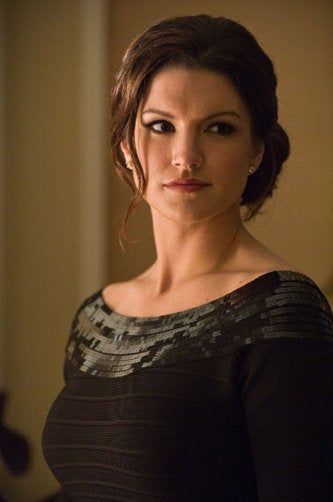 Gina Carano as MK
MK (a prodigy of Miriam) , or Mary-Catherine to those that want a slow painful death, who was a Navy Seal in a top secret unit before a disagreement with a commanding officer cause her discharged. She works under Miriam's supervision in Lion Rose Group, a security firm that specializes in protecting top officials in South America. She wants a bigger role in the group but Miriam doesn't think she is ready because Mk is too impulsive.
When in the States, she competes in a MMA type competition and helps her brother with a sports equipment store. She also is the 1st prize winner of her hometown's Pie Contest for 6 years running after learning how to bake from Miriam.
Reason why Gina Carano was cast:
She has proven she has the skills and chops with her lead role in Haywire and her role in Fast & Furious. If anything she will be adding her name to the roster of Women who Kick-Ass.
---
Linda Hamilton as Ethel
Ethel co-founded ISIS with Diamond. Her background is largely unknown. The only verifiable fact available is that she was in Iran at the same time as Diamond's Army unit. She works in Baron Corp but in a different unit than Diamond. She is an expert in arms, hand to hand combat and can out-shoot anyone. Because of her unknown background, many people do not trust her (except Diamond).
She lives in Tuscaloosa, Al when not working. She roots for the University of Alabama and teaches older Girls Scouts shooting and other survival skills in a non-official capacity.
Reason why Linda Hamilton was cast:
Because what female center action movie would be incomplete without the woman who gave us this iconic picture: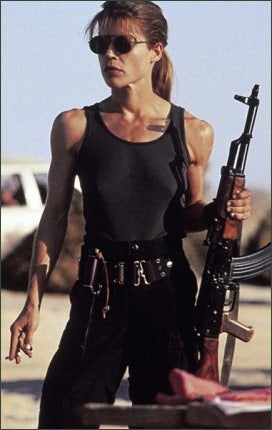 ---
Gina Torres as Miriam
Miriam is as lovely as she is deadly. She is a former top agent in the CIA but was fired when she went after MK's former command officer. Because she promised her best friend Amanda (who was dying of cancer) to look after MK (Amanda's younger sister), she invited MK to work at the Lion Rose Group with her. Miriam is an expert in languages and surveillance. She can also fly airplanes and helicopters like nobody's business.
Miriam lives in the headquarters of Lion Rose and operates the cafe. She teaches cooking lessons with a survival tinge to recruits and employees at Lion Rose. She also attends/roots for her son who is a professional hockey player (she is often seen with his team's hat or wearing a shirt with his team's logo).
Reason why Gina Torres was cast:
BECAUSE THE MOTHERFUCKERS DIDN'T CAST HER AS WONDERWOMAN! Also because she is a natural fit for this movie considering her roles in Hercules/Xena, Cleopatra, Firefly/Serenity, and Suits (Yes, Suits!). Another reason is BECAUSE SHE IS NOT FUCKING WONDERWOMAN and she is awesome!
---
Angela Bassett as Tiny
Tiny "Matilda" Jones has trained with the best of the best. Not only has she worked with Ross (and saved him from more rough patches than he's thankful for), she also is the founder/CEO of Stone Meadows Manufactoring, a small mercenary organization but leading arms manufacturer. She is an author with some of her works including sets of manuals for the Special Forces and a knitting book. She is often seen with her Akita T-Bone who is the first guard dog of its kind.
In her spare time, she knits, writes, and tries to get along with her teenage daughter. She also helps the cleaning crew with their duties sometimes because she thinks it is important to do so.
Reason why Angela Bassett was cast:
Because she's Angela Bassett, that's why!(can't believe you even had to ask...)
---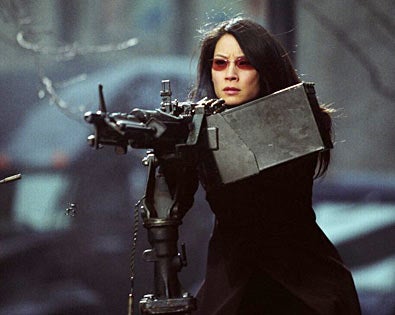 Lucy Liu as Violet
Violet is a freelance Mercenary who often takes contracts from Stone Meadow. She is an expert in long range weaponry and sometimes advises on/tests any weaponry Stone Meadow makes. Her official affiliation is with the US Air Force but her record was deemed classified.
She lives in Pittsburgh with a cat. She restores classic automobiles and teaches the neighborhood kids a thing or two about self-defense. Her neighborhood dry cleaner often asks what about happen to her husband who disappeared 5 years ago(He was killed by Vilian).
Reason why Lucy Liu was cast:
As a former one third(and the best one third) of Charlie's Angels, her role in the Kill Bill series, and every other kick-ass role she has played has earned her spot on this roster. Plus Team Elementary all the way!
---
Angelina Jolie as Ashley
Ashley is a freelancer who was a trained assassin from a disbanded Group called X. Not only are the martial arts and knives are strong suit, she has the most headshots in the sniper world. She grew up admiring Diamond but did not join the Army due to being recruited by X.
Ashley has 2 cats, 3 dogs, and a fish with her husband John(an accountant) who has no idea what she does for a living. She roots for the Houston Texans with JJ Watt as her favorite player. #serfbort*****
Reason why Angelina Jolie was cast:
Let's see with the franchise Tomb Raider, the movie Wanted, and let's not forget Salt under her belt, she is required to be in a movie like this. Also because she is one of my favorite people of all time. And yes, I projected with her character...sue me!
---
Milla Jovoich as Mindy
Mindy's was affiliated with [a very deadly Special Forces unit] and is a computer expert. She joined Baron Corp because she was bored after she left the Special Forces. She maintains the IT department at Baron and is regulatory deployed on several missions with Diamond.
Her and some co-workers, including Vamp, have a band called the Evil Suckers. They have not booked any gigs and usually practice in an unused section of Baron. She once used her guitar to beat up a target because he called her music dumb.
Reason why Milla Jovoich was cast:
Resident Evil....enough said.
---
Michelle Rodriguez as Bonita "Two-Punch"
Bonita or Two-Punch is a decorated Army Ranger who was discharged after disobeying orders from a superior. She works for both Lion Rose and Stone Meadows training their recruits for hand to hand combat. She is often credited at Lion Rose for making half the recruits from the 2010 class quit in 5 days of a 60 day training class. In the resulting report filed, she was quoted saying:
All I did was show them what it takes to be a part of this world. It's not my fault you hired a bunch of lazy undisciplined slobs. You should do a report on HR for hiring those losers and give me a bonus because I did you a favor.
Her request for a bonus was denied.
No one really knows what she does in her free time but someone reported seeing ballet shoes in her locker at Stone Meadows. Her nickname Two-Punch comes from her older sister who used to coach her in boxing when they were younger. It took two punches and then her opponent was KO'd
Reason why Michelle Rodriguez was cast:
Any movie that will have women and action requires Michelle. She has stacked up a bunch of roles that make her one of the top action actresses to date.
---
Kate Beckinsale as Vamp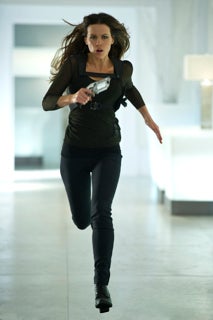 Vamp very much loves her guns. She is the head of the department of Research and development at Stone Meadows, choosing to test weapons in the field. Computers are not her forte and has a personal assistant to deal with MS Word.
Her parents named her Vamp because it sounded cool at the time. She is fine with the name since her teeth do resemble vampire teeth. She is the lead singer for the Evil Suckers. Mindy teaches her about computers after practice or on Saturdays when they're free.
Reason why Kate Beckinsale was cast:
Maybe it is because Underworld was cool. Maybe it was because her character was the only redeeming quality of Total Recall. Maybe it was because of both.
---
Lucy Lawless as Henry
Henry is an ex Special Forces who retire with ALL the decoration and honors. She hated being a stay at home mom so she became a freelancer and takes jobs when she fancies. She does martial arts, knives, and explosions. She sometimes is an adviser to Stone Meadows on explosives.
She and her husband who are both ex-military have 3 kids. She also has a hawk as a pet called Stevie. Her husband doesn't mind her freelancing as long as she makes it home to cook dinner at least once a month if she is on assignment. She has a twin brother named Silvia because a nurse made a mistake. Her parents never bothered to fix it because there is nothing wrong with the names.
Reason why Lucy Lawless was cast:
CAUSE XENA. NOTHING WOULD BE COMPLETE WITHOUT XENA.
---
Maggie Q as Nikki
Nikki works for Baron but in a solo role. She is often sent in for assassins or other jobs that require stealth and quickness. She always takes her beloved gun Martha who was inherited from her father, even though the gun is old and can sometimes jam. She pays recruits to write her after debriefing reports.
Nikki can be seen playing short stop for the company's softball team and opening art exhibitions for her paintings. Her wife (who she met at a exhibition) owns the gallery where Nikki showcases her work. She wants a big bonus from Baron or someone buying all of her artwork, so that her, the wife, and their 2 kids can retire somewhere quiet.
Reason Why Maggie Q was cast:
I have always liked Maggie. She should be given more roles. She is about to play the famous pirate Ching Shih if you didn't know.
---
As for Cassandra here is a list of women for that role:
Naya Rivera
Tatiana Masley
Eva Amurri Martino
Odette Yustman
Alexa Verga
Annie Ilonzeh
Each one, in my opinion, could pull it off with the right guidance.
---
ISIS was created as a support group for women with special training so that they can help each other in a field dominated by men. The network of members formed a tight sisterhood with each other. Even though the group eventually, retired, the network of women still keep in contact to help out new women get jobs/contracts.
Do not confuse with Archer's ISIS!
---
*Boom! You're welcome, Sylvestor. There's your Expendables 4 storyline. (Can I call you Sylvestor? Because if we are going to be working together I just want to call you something less informal than Mr. Stallone. If that's okay with you...)
**No, I don't know what it means. It is named after the Egyptian goddess Isis because I love her and she is my favorite of all the gods.
***Yes, I know the names sound ridiculous but I love them especially Ashley. (I wonder why???)
****Boom again! ISIS and the main Expendables working together for Expendables 6(Expendables 5 would be The Expendables: ISIS
*****Sorry, I couldn't resist!
Do you have a story idea for the ladies of The Expendables or some cast suggestions? Share and explain in the comments!
I would like to apologize in advance for going overboard with the tags.