MrMountainDad came out to the living room tonight and announced, "I think it's time for the flannel sheets." Now, I don't get this man. I swear, you would think we live on the edge of the Arctic Circle or something the way he bundles up in this house and he acts like he is on the verge of hypothermia every evening from early October until probably well into April. This used to be something I just chuckled over and I humored him. And you know, flannel sheets are fuzzy and feel like a nice hug. Until, one day you reach a certain age and you start waking and realizing it's more like this: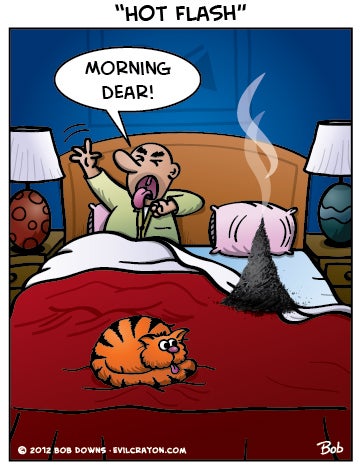 Which is where I found myself last year. At the ripe old age of 43, I found myself smack dab in perimenopause territory, confirmed by blood tests from my doctor which indicated that my hormones were indeed heading into old lady territory. So when cold weather rolled around last year, and MrMountainDad started whimpering about needing his woobie sheets, and I'm thinking, "REALLY? I'm waking up in a puddle of flop sweat, dude," I was coming to the conclusion that we really should have bought a house with an extra bedroom, because ... I didn't know how we were going to solve this dilemma. Then ... < insert dramatic music here > I found the solution ...
SPLIT SHEETS. Yes, half regular cotton sheets, half fleece. I bought those suckers (available on Amazon, but sorry, no free shipping through Prime) and gave them to MrMountainDad for Christmas last year, and he nearly started crying. I think it was one of the best gifts I've gotten him in our nearly 20 years of marriage. He was so excited, he could hardly wait to go and strip the bed and put the new sheets on. To hell with the rest of Christmas, I gotta go make the bed, people!
So while I know a lot of you are youngsters and many of you are single, I am offering those of you who are old marrieds like me this small token, my acknowledgement of the compromises needed to make long-term relationships work. Stay cool and may your marital bed remain peaceful!