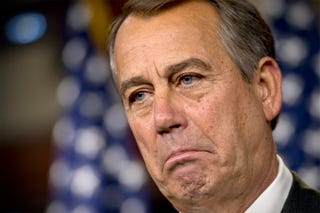 If only he would stand up to his party in public. Where's the leadership?
You guys, I am an ex-Congressional staffer and let me tell you it's no picnic. Working 60+ hours a week for shit pay in expensive-as-hell Washington, DC leads many staffers to end up living dorm-style in houses where they share bedrooms. It's not glamorous and you often have to deal with bosses (the lawmakers) who have HUGE egos and haven't had anyone tell them "no" in ages. This leads them to have unrealistic expectations of staffers and to throw fits when they don't get their way. People become Congressional staffers usually, because they are idealistic and actually want to make a difference for their state and for the country.
Last night's last Continuing Resolution passed by House Republicans included a measure that ended employer contributions for congressional staff's health care plans. It's a total dick move to try and take away their contribution to their staff's healthcare plans as they are forcing their aides, including staff assistants who make about $25,000/year, to stay at the office until midnight working. All because they can't get their act together and pass a budget (ie THEIR JOB).
However, apparently House Speaker John Boehner was secretly trying to work with House and Senate Dems and the president last night to save these subsidies for aides, even as he was condemning them in public.
From Talking Points Memo:
Emails and documents obtained by Politico show Boehner and his aides worked with Senate Majority Leader Harry Reid (D-NV) and House Minority Whip Steny Hoyer (D-MD), among others, to find a way to maintain the long-standing employer contributions. Those documents also show that Senate Minority Leader Mitch McConnell (R-KY) was aware of the behind-the-scenes talks.

In addition to those efforts, Boehner attempted to arrange a meeting with President Barack Obama to ask for help in securing the subsidies, the documents show. Although Boehner and the president never met to discuss the contributions, a senior Boehner aide was able to meet with White House Chief of Staff Denis McDonough on the issue, according to Politico.
Reid's communications director Adam Jentleson told Politico that the Nevada Democrat "appreciates Speaker Boehner's cooperation and tireless efforts to work through this difficult issue."
Whaaaat? Is there a reasonable person hidden underneath all that silly political posturing?
I'm told by friends still on the Hill that Boehner actually wanted to work something out and avoid a government shutdown. He did not want it to go this far. However, he kowtowed to the craziest segment of his party. That's how we got to the government shutdown.
One thing's for sure. If there is a sane person hidden under there, it's time for him to come out and say hello. Congress and the American people desperately need our lawmakers to cut this shit out.
A Boehner spokesman denied that the speaker's efforts went against the speaker's public position on Obamacare.

"We always made it clear that the House would not pass any legislative 'fix,'" Boehner spokesman Michael Steel told the publication. "As POLITICO has previously reported, Speaker Boehner was aware that Sen. Reid and the White House were discussing this issue. He was always clear, however, that any 'fix' would be a Democratic 'fix.' His 'fix' is repealing" Obamacare.
*sigh* I won't hold my breath.