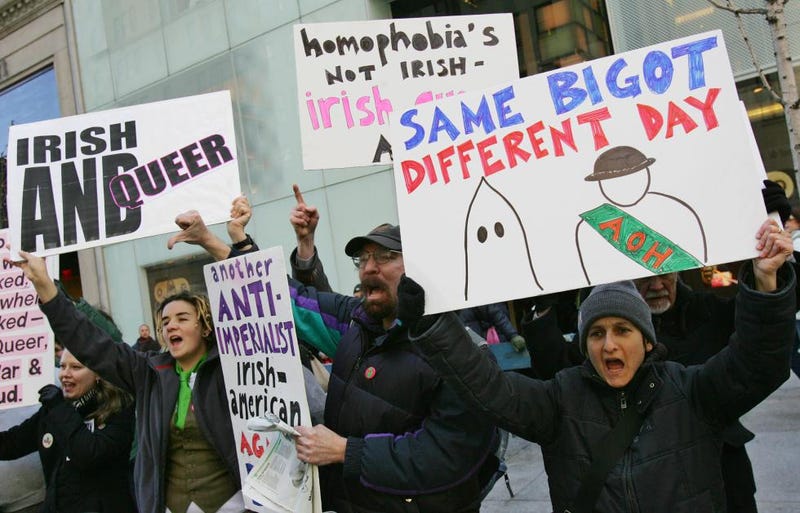 There was recently some hype that the Boston St Patrick's Day Parade organizers were going to let MassEquality (a Massachusetts LGBT rights group) march, which would be the first time in something like 20 years that a gay group was allowed in. Since it's a privately run event, organized by the South Boston Allied War Veterans Council, this is something they can totally do.
They said they'd let them march, but only if they didn't wear or hold anything that said "gay" on it. How tolerant of them, right? And they were shocked, SHOCKED, when the totally unreasonable MassEquality rep refused this concession.
Apparently, there are some strange details that complicate the story. Supposedly, MassEquality told the parade organizers that they were applying to march on behalf of 20 veterans, under the affiliate organization LGBT Veterans of Equality. Later, it turned out there was only a single veteran. So parade organizers thought MassEquality was trying to pull something. I can't really blame them if they were though.
There's a good summary of all this over at boston.com. And according to the Herald, Gillette dropped sponsorship of the event after all this drama. And Boston Mayor Marty Walsh is going to boycott the event, same as former Mayor Menino. The Herald also included this wonderful quote from one of the head parade organizers, John "Wacko" Hurley. (For those of you who don't know him, he's the man who won a Supreme Court case in 1995 allowing the parade to continue banning gay groups.)
Walsh keeps saying it's 2014, time to move on. But Wacko told NECN, almost spitting his words, "I don't care if it's 2114."
(Photo at the top from the Concord Monitor, showing protests at the parade in 2006.)