At the fleamarket I got for a dollar issue one of a magazine I never knew existed. Frank Frazetta Fantasy Illustrated. I never knew this magazine existed.

The inside of the magazine reminds me of Heavy Metal magazine minus the nudity from what I saw, just a glimpse. Frazetta as many Fantasy fans know from the 60s to at least the 80s his covers of books and magazines were considered by far the best in the industry. Magazine covers he and Norman Rockwell were probably the two best or at least best known. Here is an article about this magazine

http://hollywoodmetal.com/2014/05/01/comic-review-frank-frazetta-fantasy-illustrated-1/
Its a pity magazine cover art has not been held to the standards these two brought. I could not name one cover artist since these two.
I got for 3 dollars Marvel Fantastic Firsts.I have many of the first origin stories from the Marvel Essential books but the Essentials are in black and white. This book is in color.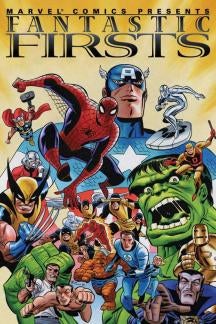 For $2.50 at a thrift shop I got the complete second season of I Dream of Jeannie. I have not seen it since I was in jr high. During the summers I would watch it with my grandmother this was during grade school primarily. It was on during the mornings in the 70s which is when I saw it last. . Have not seen it listed on tv for years. I remember loving it.

Any Jeannie fans? Part of me dreads watching it because what I liked as a kid does not mean I will like it now. My grandmother liked few sitcoms she liked this, any Lucille Ball series she loved Lucy and Mr Mooney the most, Beverley Hillbillies which has NOT stood the test of time. I tried it a few years ago and grimiced, it was more "really I found it funny as a child". I hope it does not apply to Jeannie.
A duplicate link to Frazetta article since well kinja

http://hollywoodmetal.com/2014/05/01/comic-review-frank-frazetta-fantasy-illustrated-1/