I hope ya'll know me well enough by now to know I don't say that sort of thing lightly. But in case you need a reminder on why she's come up on GT before, a quick refresher: she called for 24 hours of silence on Twitter to call to light how women's voices are largely ignored in the face of online abuse, which triggered a conversation about white feminists ignoring/silencing WoC. (FloralBonnet did a great job on that post, go check it out.)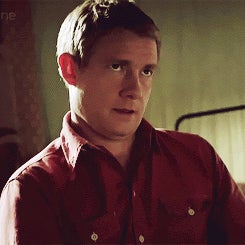 This weekend, Moran was hired to help with some of the Sherlock launch stuff for the BBC. Over the course of the last few days she has
Called the fans queueing for the event early 'virgins'.
In an attempt to shame/mock the fans that participate in fanfiction and fanart, confronted several of the show's stars with works by passionate fans (I've heard she actually forced some of the actors read it aloud at the event).
Leaned heavily on 'no homo' jokes to mock all of the John/Sherlock attention that is dropped on the show (and frankly every single incarnation of Sherlock Holmes since the original Arthur Conan Doyle).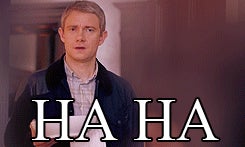 From Tumblr: (emphasis mine)
Any action a woman engages in from a spirit of joy, and within a similarly safe and joyous environment, falls within the city-walls of feminism. A girl has a right to dance how she wants, when her favourite record comes on."
― Caitlin Moran, How to Be a Woman—

So, Caitlin, did you *actually* mean that when you wrote it, or were you just bullshitting? Or does fandom and fanfic not count as an action "a woman engages in from a spirit of joy" in a "safe and joyous environment" because it's something you personally don't like and therefore it deserves to be dragged from its safe and joyous place and mocked in public? Like a woman dancing unguardedly in private who gets filmed through her window without her knowledge and consent, the vid then being posted to YouTube with a snarky commentary about how ridiculous she looks?

Feminism: try harder.

(Yeah, yeah, I'll stop bashing at this now, but it really makes me see red. Graham Norton and his fanart thing was bad enough, but Norton at least makes a career out of horrible public embarrassment squicks broadcast to the world, so there's a certain consistency there even if I don't like it. Caitlin makes a lot of noise about being a feminist, though, and she totally failed here at walking the walk, hence my being extra pissed off.)(/rant)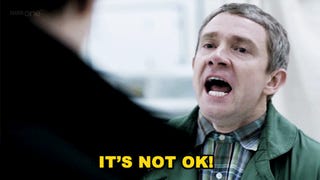 Also from Tumblr: (this is just a snippet, the whole piece is great)
I've been pretty dismayed by what I've read of Caitlin Moran elsewhere, and I will add she didn't have the understanding of the role she was supposed to play in the Q&A. That makes her breathtakingly unprofessional. I can only hope she is not offered more gigs that require an understanding of professionalism.

Also: what's so funny or perverted about homosexuality anyway? One of the writers of the show and one of the main actors are out and gay. I'm sure they loved sitting there while their co-workers were asked to play along with the idea that homosexuality is somehow embarrassing.
If you think your role as a professional (and professed fan) hired for an event is to be "funny" by mocking fans, making your colleagues uncomfortable, and making homophobic remarks (particularly in front of "friends" who are LGBTQetcetc) you are not just a bad feminist. You are an unthinking, insensitive person. You are not funny. You are hurtful, and the fact that you have been told as much before makes it that much worse. I'm disappointed in this, particularly because the cast and crew of Sherlock work so hard to embrace all the love that people have for the show that they've created together.
Fuck you, Moran. I'm starting to think that you're auditioning to be Moriarty's sniper, you're so hellbent on ruining Sherlock for the rest of us.
(For those interested, Sherlock Holmes is one of the very first 'original' (read, non-biblical) use of the word 'canon' to describe works by ACD versus others. This is a 100+ year old fandom based on fanficiton, fanart, and pressuring ACD into writing stuff he didn't want to. Back off. The Baker Street Irregulars are far more numerous than you know.)