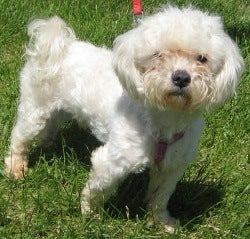 I have never been a dog person. I like playing with other people's dogs, but I never had the desire for one of my own. If I wanted to play with a dog, I'd go visit one of my relatives.
The idea has been growing on me, though, especially since marrying someone who is a dog person. Also, I now have the money to deal with any pet health issues without blinking, which I now see was part of my hesitance. Every day, I get a little more excited over the idea of owning a dog.
My husband wants a dog terribly, so I can't depend on him asking me the hard questions. He's just waiting for me to send him a link to the SPCA page with the dog I want. That's where I need Jezzies: What warnings do you have for me? What are the hard questions? What should I be researching?
Some information about me:
I telework full-time, so I would be home with the dog all day.
We live in a three-level townhouse. There's no fenced backyard, but there are lots of walks.
I have two kids, ages twelve and five. They're used to cats and dogs due to their father having them at his place.
I do not want a big dog. Medium is about as big as I'd go.
So... help?