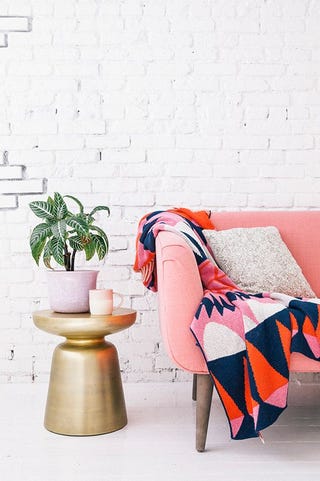 I'm moving at the end of the month into a loft and course I've been obsessively researching furniture (must find perfect drafting table) and tchotchkes (I can't stop buying elephant figurines) with which to fill it.
I am hell bent on not buying everything big box, but the sofa thing is throwing me a bit. I have a new design crush in Emily Henderson, who is The Girl Who Reupholsters All The Fabulous Vintage Things...but I just don't have the experience or patience for this.
I am willing to splurge a little (this is, of course, relative—I can't do $3K+....or even $2K+) to avoid getting anything that's crap quality, I'm looking for something clean (like everyone else on the planet, I am drawn to MCM) but comfortable. I LOVE performance velvet in fun-but-not-toooo-fun colors. It can't be huge as I have around 500SF to work with.
Below are some initial picks. I've only sat in the CB2 and it's super comfortable (it's also available in pink, shown in the lead photo). And, not that it matters, but it's my 4-year-olds favorite.
I trust that R&B's quality is decent. Scandinavian is also okay. The TOVs...I have no clue, they are available on Wayfair. West Elm...I dunno, I've heard mixed. Every time I am in a store everything seems shaky and cheap, so I would need to check this out in person.
Any opinions or thoughts or recommendations welcome! This will be my single largest purchase so I am nervous about pulling the trigger.
1 - CB2 Rue, in color shown ($1000).
2 - Room & Board Murphy, in color shown ($1300).
3 - Scandinavian Designs Asgar, in color shown or this color blue, which I haven't seen in person yet ($700).
4 - TOV Gavin, in color shown ($1100).
5 - TOV James, in color shown ($1100).
6 - West Elm Finn, probably in color shown ($900).