Well a couple months ago, mrchien and I finally sucked it up and visited a fertility specialist. We're quite lucky in that our insurance covers some of the costs. The doctor initially was quite positive about our prospects. Apparently marrying a young guy has some perks in this department. So she put us on the 'easy' plan, except it hasn't been easy!
Apparently, if you had a MMR shot before the 1990's you need to get another one. Who knew?!? So we had to wait a month to start treatment, because apparently they use a live virus in the vaccine. I got repeated warning about the dangers of getting pregnant while the virus was still live in my system. In addition, I had a reaction rash to it, so between that and the hysteria about a possible ill advised pregnancy... well my poor husband slept on the couch more than he liked. Scratch that, more than I liked :(
And then we found out that his white coat syndrome extends to intimate samples for testing. Poor guy had to fast from certain activities more days than he got to indulge because the doctors wanted to make sure that he wasn't the problem. (He's not, but he's asked me not to reveal anymore, sorry folks!) We're stopping by Harris Ranch on our trip home, because he's earned it!
But finally, we're cleared for treatment and we're starting this week! (on my vacation, natch) So hat tip to whoever warned me that clomid may leave a nasty taste in my mouth. Blech!! I'm glad i'm taking it at night. The literature they give you warns of nasty PMS like symptoms, and being very emotional, but nowhere does it talk about leaving an aftertaste!! Boo!!!
So far i'm not feeling emotional, but I may limit my presence here because i don't want people to freak out, or to be the cause of a pile-on because hormones. And I've been warned that the PMS like symptoms may hit closer to the end of the cycle than the beginning/middle. So I may be starring a lot and not commenting much, so as to avoid saying something weird/emotional that i'll regret later. Please keep mrchien in your thoughts and prayers, i've promised him that it'll get better later this month ;)
Is it weird that i've only told a couple of close friends along with keeping this off all my social media, but writing it here for you guys? I just don't want to deal with the teasing or expectations of people i know in meatspace... is that weird? Oh and I may remove this post later, because it's pretty intimate. But in the meantime feel free to share your fertility stories and experiences. Any advice would be appreciated too!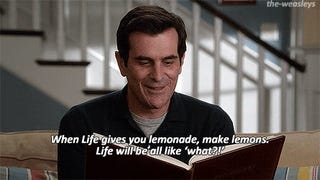 And a random gif, cuz it's a fave of mine :)