It's a good topic for this snowy weekend on the East Coast, but good for anytime in the winter. What is your cold weather drink of choice, for when you're under the blankets/in front of the fire/coming in from the cold?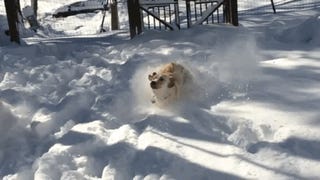 (Or when coming in from chasing your snow-mad dogs)
Right now, I've got hot chocolate with marshmallows as I watch Downton Abbey. I'm debating adding some peppermint schnapps, which is a family favorite. Hot chocolate is my feeling-like-a-kid warm drink, but ONLY if it's made with milk. Hot cocoa packets in water tastes like hot chocolate-flavored water and is gross.
But when it's warm comfort and hands around a hot mug I'm craving, hot tea. Peppermint, herbal, green, anything. Trader Joe's had a candy cane green tea last year that made my whole apartment smell and it was lovely.
Also, chai lattes! But no coffee, can't stand the taste.
Whatchu drinking, GT?