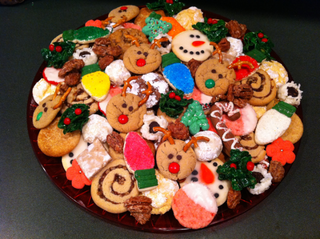 I know it's a little late for this post, but since I've been watching shows about tiny houses all day and looking up recipes, now I want holiday cookies.
What are your favorites? Do you have recipes to share? Are you going to a swap this year? Does anybody really need a reason to bake cookies? Cookies are great, bake them all the time.
I found this recipe for Reese's filled Russian Tea Cakes (aka snowballs) now it's all I can think about. Well, that, and making some pretzel covered cookie butter truffles again, because they are magical.
ETA: Lifehacker posted a link to a recipe for making your own cookie butter, which would make it even better.