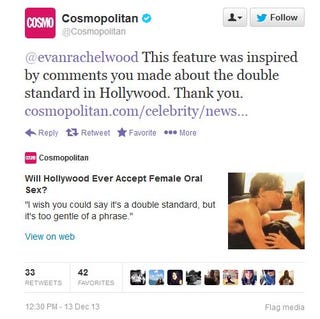 Pigs are flying outside my window at the moment because I absolutely love the article Cosmopolitan wrote on Hollywood's double standard on sex.
Thank you, Kate Dries, for yesterday's Tweet Beat, since I decided to click through the link on Cosmopolitan's tweet.
And then magic happened.
Yesterday, Cosmopolitan posted this article by Darla Murray, Will Hollywood Ever Accept Female Oral Sex?
Jill Soloway, who directed this year's Afternoon Delight, disagrees. "I wish you could say it's a double standard, but it's too gentle of a phrase," she says. "I think female pleasure must have the potential to explode the entire planet. It must be that dangerous because people are working so hard to make sure that no one sees it."

Soloway believes this is actually a problem that goes beyond the MPAA and is a reflection of the film industry and American society. "There is a patriarchal system of storytelling, of filmmaking, of books, of belief, that literally aids the division of the woman and the slut," she says. "It depends on the idea that good women don't experience desire or pleasure, and that bad women who do are punished."
I love love love the reference that we're still stuck in the virgin/whore or prude/slut dichotomy.
I love love love that female filmmakers and writers and other artistic creators are working so hard to portray female sexuality.
I don't usually go to the cinema, but I'm glued to Netflix most of the time. What feminist film recommendations do y'all have for me?