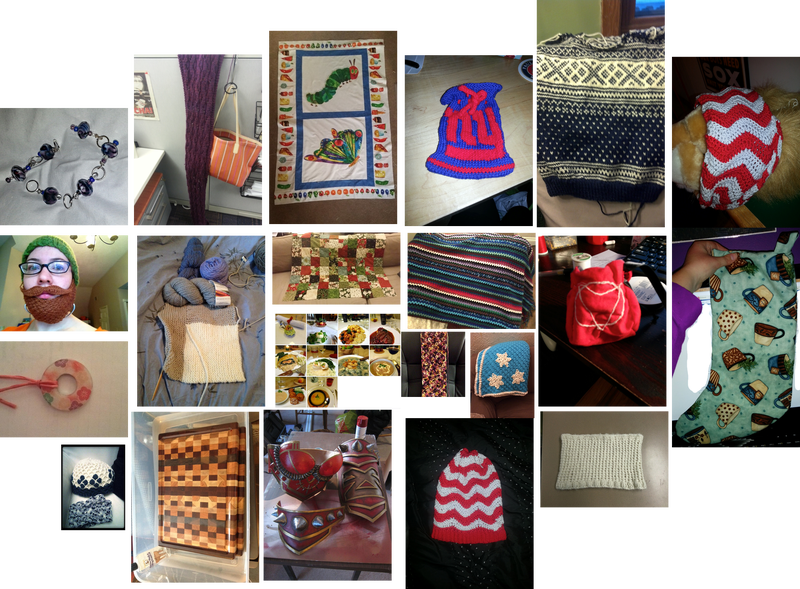 It's that time again! Show the rest of GT what you got done this week! All crafts are welcome, as well as all states of being (finished, worked on, thought about, shopped for, burned in a fit of rage).
For those of us crafting for the holidays, we have just over a week to get stuff done, and that's if you can finish shit up the morning of the 25th. Me? I'm pretty sure I'll be blocking a scarf at 11:59pm on Christmas Eve.
Quick question for the other crafters
How much cash value do you give a crafted item? Just the cost of the materials? Cost of materials times some multiplier? Do you add in an hourly rate on top of it?
Normally, I don't care, but I'm giving one parent a tech thing, and the other a hand-knit scarf. Tech thing was spendy. Even though the yarn wasn't cheap, the raw materials are still way cheaper than the tech thing. However, I'm going to be knitting on this for the next week. That should count for something, right?
I'm curious if anyone has some sort of gift-math they use in situations like this.
What did I get done?
I can't post one of my finished objects because it's a gift to someone who may be reading! I'll post it once I know it's been received.
Other than that, I was a finishing beast. I blocked two items and sewed buttons on my Tanvi. Fiber people, blocking is magic. Seriously. Do not skip blocking. I'm smacking myself for every project I've made where I skipped blocking because I thought it looked fine as it was.
Oh, and just as I thought I was done with holiday knitting… my mother asks for a scarf. Cue a panicked run out to my local yarn store to find a yarn that would suit the pattern I found on Ravelry that promised to be quick without resorting to bulky yarn (she specifically asked for a scarf that wasn't 'thick'). I'm making pretty good progress on it.
Still, she better damn love this thing. I had to rip it out once because I decided that four repeats of the lace made it too wide, and I'll need a minor miracle to be able to get this thing done before all the holiday parties start. I'm already checking to see if I can speed along blocking with prayer and a hair dryer.
How about you?
What did you get done? Show us, and link to your shop if you're a seller! Didn't get anything done? Link to your Ravelry profile!